Top 3 Global Logistics Trends of 2021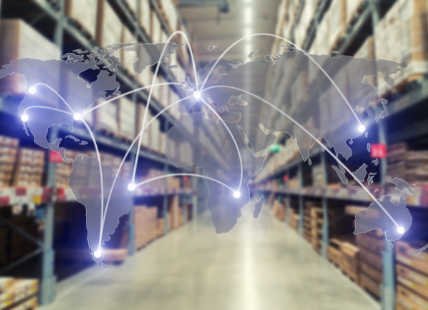 The events we have faced, survived, and learned from over the past 18 months have been unprecedented. Worldwide, the pandemic made its mark. Across the Atlantic, changes to trade between the UK and Europe continue to create new challenges. Shortages are affecting prices of certain raw materials and goods, and in July, a single ship caused global trade to come under threat once again, after getting stuck in the Suez Canal. Global logistics has been at the forefront of news, time and time again.
Luckily, 3PLs and professional logistics teams are familiar with the need to adapt. By keeping on top of global logistics trends you too can stay ahead of the curve, with the help of a reliable partner. Through 2020, 3PLs helped medical businesses get PPE to hospitals, and essentials to stores. They also helped smaller businesses change their infrastructure, set up delivery systems, transportation and warehousing, and stay open online.
Here, we share some of the trends that will shape this industry in the years to come.
The Circular Supply Chain
Sustainability and environmentally conscious choices are at top of mind for businesses and consumers. The concept of the circular supply chain promotes reuse and recycling. Rather than gathering new raw materials to make the same products, manufacturers are encouraged to rebuild from the products they previously made, that have been used and are no longer wanted by their customers.
With many raw materials unstable or increasing in price, now is a great time to invest in this solution. The initial investment into this global logistics trend may cause some business owners to delay. However, those that move towards this sustainable model are likely to reduce costs in the long term, benefit from a future-proof strategy, and keep environmentally-conscious customers satisfied.
Specialist and Flexible Solutions
During the pandemic flexibility was essential, and this way of working fits with ongoing global logistics trends. In 2020 the change was sudden: some products were needed immediately, and others were no longer needed at all. Businesses that were able to adapt, stayed strong. We've learned that we can be more flexible than we ever thought possible, and we predict that this impressive global logistics trend will become an expectation.
Specialist trucks and skillsets were also required to help with efforts throughout the pandemic. 3PLs with experience working in medical settings were in demand to set up new hospital facilities, and transport fragile medical equipment and PPE. Looking to the future, we predict more businesses will choose to work with teams that have specialist knowledge, and equipment that meets the needs of their industry.
Fast and Free Delivery
B2C business owners will know that on the consumer side, shipping is key to making a sale. Consumers have become accustomed to next-day and same-day delivery made popular by big-name brands such as Amazon, and post-pandemic, contactless delivery is a must. Behind the scenes, a flexible supply chain, a network of warehouses, and a trusted delivery team can help your business compete.
Work with a 3PL and Stay Ahead
With an experienced 3PL by your side, you'll be ready for anything, through changing demands from customers and business partners.
During the pandemic, Beltmann Integrated Logistics stayed open. 3PLs were able to support medical companies with urgent shipments, hospitals setting up new wings, retailers managing supply chain changes, and smaller businesses in need of new services to stay open online.
We're here to help you adapt to the "new normal", provide retail fixtures logistics to help your business re-open, and create a future-focused global logistics strategy for tomorrow. Contact Beltmann Integrated Logistics today, or give us a call on 877-518-2863 to learn more.
Benefits of Consolidated Services. Consider a few key benefits when deciding if consolidated services are right for you. Reduce Waste Improve speed of delivery Cut costs Preferred / bulk rate Reduce small pick ups Build supply chain relationships Keep within tight deadlinesMeet compliance standardsFewer touchpointsReduce risk of damage to freightBeltmann Integrated Logistics leverages an inpressive curated list of warehouses, carriers, and local service providers and we would be happy to become an extension of your staff. Our innovative processes and external resources allow us to deliver cost-effective logistics services that fit your unique business objectives. Browse our project logistic experience or contact us today.Beltmann Integrated LogisticsSource: https://beltmannlogistics.com