A Guide to Shipping Medical Supplies and Personal Protective Equipment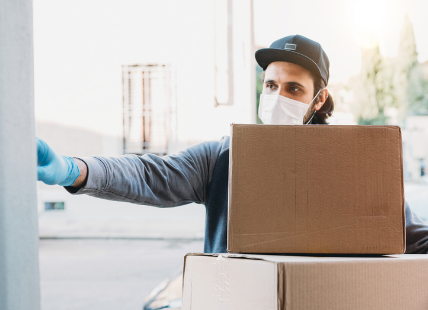 Throughout the pandemic, transportation and logistics teams have stepped up to take on a key role, ensuring the successful movement of personal protective equipment (PPE) and medical supplies. Transportation services are in demand by PPE manufacturers and medical suppliers, as well as those in the healthcare industry in need of PPE to continue their life-saving work. Hospitality and retail business owners who rely on PPE to protect their customers and team members are also in need of efficient PPE shipping in order to stay open for business.
The following tips for shipping medical supplies and PPE will help you navigate complex policies, consider your supply chain options and make the PPE shipping process simpler and smoother.
Make Use of a Variety of Transportation Methods
Air freight tends to be the go-to solution for shipping much-needed PPE. However a great deal of air freight is typically transported on passenger flights, which are currently minimal.
In the current climate, costs can be kept down and demand can be met with a supply chain that makes use of a variety of transportation methods to complete shipments as quickly as they are needed.
Working with a third-party logistics (3PL) team is a great way to optimize your supply chain to new and constantly changing circumstances. With access to truckload shipping, less than truckload shipping, air freight, ocean freight services and more, a 3PL will be able to ensure your PPE gets to the right location on time and within budget. From PPE next day delivery, to safety stock supplies, a 3PL can help you prioritize and handle all kinds of domestic and international shipments.
Research Exporting Policies and Changing U.S. Customs Requirements
If you are shipping PPE into the United States, be sure to review and follow all U.S. Customs and Border Protection (CBP) requirements and consider whether U.S. Food and Drug Administration (FDA) requirements apply to your shipment. Regulations will vary depending on whether you're importing medical or non-medical grade PPE, and how it is labeled and marketed.
In 2020, due to shortages in the United States, China and the U.S. made changes to their import and export policies relating to PPE. A large quantity of PPE continues to come from China, so knowledge of key policies is essential to ensure a smooth export process.
The FDA has changed its policy on masks, respirators, gowns and gloves to enable the movement of more product into the U.S. As long as it does not "create an undue risk in light of the public health emergency

,

" circumstances may allow for equipment that has not met Establishment Registration and Product Listing requirements to enter the U.S.
Be aware that China Inspection and Quarantine (CIQ) on PPE freight (including related documentation etc.) has been extended.
All PPE and related medical equipment must come with a document asserting that the product meets U.S. standards and has received China's Medical Equipment Product Registration Certificate.
Be conscious of the whitelist and blacklist of personal protective equipment companies published by the China Ministry of Commerce on the China Chamber of Commerce of Medicines & Health Products Importers & Exporters website.
If you're shipping PPE into the United States, it's essential that you have a strategy to stay up-to-date with rapidly changing requirements.
Work with a 3PL Team that Has Experience in the Healthcare Industry
If you do not have prior experience in the healthcare or medical industries, it is strongly advised that you work with a 3PL or PPE distribution partner that has previously handled this kind of shipment.
A 3PL with a background coordinating hospital relocations and medical supply shipping will be able to help you to a greater degree than any other team. They may also be able to help you determine quantities and lead times and optimize your supply chain to more efficiently meet demand. A 3PL with connections in the industry may also be able to secure improved pricing and have trusted partners to work with, to ensure your success.
Ensure You Have Access to Warehousing
If you own or rent storage or warehousing, make the most of it, and if you do not, consider working with a 3PL that can also meet your storage needs. Many 3PL companies offer warehousing services to complement their transportation offerings. With access to a safe, secure warehouse, you can store PPE until you need it, or get it ready for distribution, so that you and your customers never reach a critical point or lack essential equipment.
Contact Beltmann Integrated Logistics Today
The global struggle against COVID-19 unites us. Beltmann Integrated Logistics is proud to serve essential personal protective equipment companies, our heroic medical professionals and all front line workers, along with businesses fighting to keep their organizations open.
At the start of this New Year where PPE remains essential, consider working with a 3PL that can prevent many of the issues seen in 2020, from PPE manufacturers who were unable to meet demand, to business owners who couldn't secure the stock they needed. Our goal is to bring personal protective equipment companies and those who need it most together, while remaining at a safe distance, via expert, controlled shipping of PPE.
The best way to ensure smooth, seamless PPE shipping is to choose a 3PL with experience improving supply chains to meet unique needs and tight deadlines. Choose Beltmann Integrated Logistics for a 3PL team with importing and exporting knowledge. We have experience working with hospitals, we can optimize your supply chain and our team offers warehousing solutions. Contact us today to learn more.
Healthcare Logistics 101 COVID-19 has had a significant impact on healthcare practices, staff and processes. If you don't already outsource your healthcare logistics, now may be the time to act. This article will help you better understand what healthcare logistics includes and how it can help your business. How Can Healthcare Logistics Help My Team? Flexibility to Meet Your Neesd. One of the great things about working with 3PL is that you can plick and choose from the services you need. Your 3PL team should have the experiience and ability to provide all related services, and be able to increase and decrease the services they provide for you as and when required. Next time you need to send or received PPE urgently or need to open a temporary facility due to an influx of patientss, your 3PL will be by your side to help make this happen as efficiently as possible, and ahve the flexibility to meet your needs. Save Time & Money. Your team is doing essential work. Give your internal team members the time they need to focus on their areas of expertise. A professional 3PL will be able to use its expertise to get the job done quickly and streamline processes. Working with 3PL can also help you save money. 3PLs may also benefit from preferred pricing and know how and when to negotiate. Combined Healthcare & Logistics Expertise. Choose a 3PL team with specialist healthcare experience. It is essential that you feel you can trust your 3PL team to handle, deliver, move and install high value equipment and have an understanding of your industry. A 3PL will have logistics expertise that your internal team can't match. If you choose a 3PL with healthcare logistics experience, they will be able to combine their healthcare industry insight with their knowledge of logistics to provide optimal support and help you move towards more efficient processes. Get Started Now. We specialize in healthcare equipment logistics and medical relocations. Contact us today to learn more about how we can help. Learn more at www.beltmannlogistics.com