Retail Fixtures Logistics Tips to Help Businesses Re-Open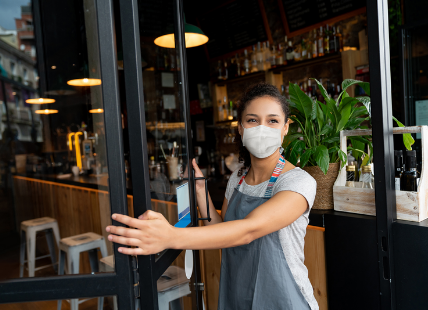 Since the onset of the pandemic, logistics services have become even more important to helping businesses adapt, stay open and meet customer needs.
With varying restrictions across the country, many businesses have been forced to make store layout changes in order to re-open. Others have even had to move or downsize.
Retail stores and restaurants are among those that have been most impacted by the virus. Retail fixtures logistics and commercial moving services can help these store owners and operators comply with government guidelines and re-open safely. Here are a few suggestions to give your store the best possible chance for a successful reopening.
Commercial Moving
Moving your business is a big decision, but it may be one to consider if it can help your store stay open.
Perhaps you're in need of more affordable rent, no longer need to be paying for a premium location, or need to downsize and minimize brick and mortar expenses to invest in ecommerce.
Perhaps you're a restaurant owner in need of more outdoor space, or would like to move to a location that's already set up for take-out and delivery.
Alternatively, you may be in need of a larger space to facilitate social distancing and keep your store open safely.
Store Layout & Retail Fixture Logistics
Many businesses may be able to stay in their current location with some attention to store layout.

Expert store layout design and in-store logistics can help you make the most of your space and enable customers and team members to practice social distancing.
Furniture, Fixtures and Equipment (FF&E) services can help you keep your commercial space looking fresh, new and on-trend without the costs associated with continuously purchasing these items.
Work with a commercial moving team who has experience moving your equipment and providing FF&E.
If you have a chain of stores or restaurants across the country, ensure you coordinate your change

s

and make use of FF&E services from a trusted 3PL with a network across the country. Choose a 3PL with the technology necessary to ensure constant communication and a seamless installation process.
Warehousing
Warehousing services are the essential, affordable solution to keeping your infrequently used items safe and secure, while enabling you to downsize or make space for social distancing.
Store infrequently used equipment, documents and excess stock.
Put away old furniture and create an enticing new display with FF&E, to make your re-opening extra special.
Choose a warehouse that offers you easy access, security, and a clean, safe storage space.
Communicate Your Safety Policies
You and your team are well aware of the policies in place to minimize the transmission of COVID-19, but your customers need to be informed through clear and understandable communication.
Use signage to inform customers of the precautions you are taking.
Help customers follow guidelines with floor markings and by making hand sanitizer available.
Update your online presence with information about how you are operating during the pandemic.
Choose a Trusted 3PL to Support Your Store or Restaurant Reopening
Beltmann Integrated Logistics is a trusted third-party logistics team with a national network, ready to ensure your commercial move or reopening is managed seamlessly. We have experience moving businesses of all sizes, offer FF&E services, retail fixture logistics, warehousing and transportation services. Contact us today to discuss your needs and formulate a plan tailored to your business requirements.
Healthcare Logistics 101 COVID-19 has had a significant impact on healthcare practices, staff and processes. If you don't already outsource your healthcare logistics, now may be the time to act. This article will help you better understand what healthcare logistics includes and how it can help your business. How Can Healthcare Logistics Help My Team? Flexibility to Meet Your Neesd. One of the great things about working with 3PL is that you can plick and choose from the services you need. Your 3PL team should have the experiience and ability to provide all related services, and be able to increase and decrease the services they provide for you as and when required. Next time you need to send or received PPE urgently or need to open a temporary facility due to an influx of patientss, your 3PL will be by your side to help make this happen as efficiently as possible, and ahve the flexibility to meet your needs. Save Time & Money. Your team is doing essential work. Give your internal team members the time they need to focus on their areas of expertise. A professional 3PL will be able to use its expertise to get the job done quickly and streamline processes. Working with 3PL can also help you save money. 3PLs may also benefit from preferred pricing and know how and when to negotiate. Combined Healthcare & Logistics Expertise. Choose a 3PL team with specialist healthcare experience. It is essential that you feel you can trust your 3PL team to handle, deliver, move and install high value equipment and have an understanding of your industry. A 3PL will have logistics expertise that your internal team can't match. If you choose a 3PL with healthcare logistics experience, they will be able to combine their healthcare industry insight with their knowledge of logistics to provide optimal support and help you move towards more efficient processes. Get Started Now. We specialize in healthcare equipment logistics and medical relocations. Contact us today to learn more about how we can help. Learn more at www.beltmannlogistics.com