Driving the Future of Retail | Increased Support for Small Businesses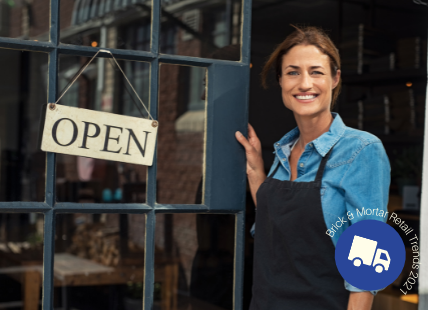 It's been a tough year and a half for small retail businesses. In-person retail came to a halt in March 2020, and many small businesses found themselves scrambling to adapt their business models to the new reality of the pandemic. Online shopping, aggregation services, health concerns, supply disruption, and lowered demand for products and services all took their toll on small businesses. In this article, we take a look at some of the effects of COVID-19 and what these monumental shifts mean for the future of small business retail.
The Effect of the Pandemic on Small Businesses
It's difficult to overstate the overwhelming economic impact of COVID-19. According to the National Federation of Independent Business, 92% of small businesses were hurt by the global epidemic. Massive unemployment caused financial insecurity, which decreased demand at the same time lockdowns were affecting supply chains. In July, the House Small Business Committee reported that 110,000 small businesses had closed permanently and another 7.5 million were facing the same fate. In July of 2020, only 55% of small business owners felt positive about the future. The pandemic upended traditional retail, with long-lasting consequences. The retailers that kept their businesses afloat during lockdowns are faced with a completely different marketing landscape and consumer expectations.
Pandemic Transformation
From March 2020 to March 2021, almost all transactions were happening online or under dramatically limited in-store conditions. The pandemic forced many small businesses with physical storefronts to adopt digital tools such as organized websites, searchable inventory, and a recognizable web presence. They were also forced to rethink their business models to compete with large online retailers. Lockdowns removed some of small business's key strengths: nearness and convince. When consumers are confined to their living rooms, a brick-and-mortar shop a few blocks away is as unreachable as one four states over. Without the motivation of locality, many people went online and ordered from big retailers. Although most consumers are no longer limited to their homes, small retailers were highly motivated to create an accessible online presence. There is now an expectation that shoppers will be able to order online. Small businesses that do not have e-commerce platforms or business models that meet customers where they are shopping are not likely to survive.
Traits That Made Small Businesses Successful
Small retailers that successfully weathered the pandemic often shared three key traits:
No one was expecting the world to shut down. Companies that were able to adapt to the new pandemic reality were more likely to stay open, whether that was by creating opportunities for contactless pickup, online orders, or carrying products specifically tailored for the crisis such as masks. Flexibility was highly valuable and will continue to set successful businesses apart from the rest.
Communication and connection. Small retailers often share close relationships with their regulars and community. Communicating new hours, featured products, and sanitation guidelines helped keep consumers supportive and engaged.
Many successful small businesses were able to treat the pandemic as an opportunity. From movie theatres renting out full theatres for private showings to walktails, the businesses that stood out had managed to come up with creative solutions.
Strengths of Small Retail Businesses
Although small businesses are increasingly competing with digital native companies on top of battling big corporations, there are a few key advantages that brick-and-mortar small retail stores.
The first is popular support. Shopping small is enjoying something of a renaissance as COVID bans lift. 75% of people plan to support small businesses as much as possible once local restrictions are lifted. The same study reported that the average American intends to spend nearly $100 a week at local businesses post-COVID in the hopes of boosting their local economy. This figure is more than a return to normal; it's a 16% increase from the estimated average spent at local businesses before the pandemic. News stories focusing on the resilience of small businesses and watching local stores shut their doors permanently have likely helped drive this behavior.
The second important advantage is community connection. Unlike Amazon or digital native stores, brick-and-mortar retail shops have an active and visible presence in the community. Regulars at local storefronts benefit from interpersonal relationships and personalization on a one-on-one basis that large remote companies simply cannot replicate. Being involved in the community and providing exceptional service is a great way to create customer loyalty.
The third and final strength of brick-and-mortar stores is the taste of the owner. Instead of being forced to comb through the entirety of the internet for appropriate gifts or purchases, small retail shops offer customers a local curated selection that can simplify the shopping process and appeal to a very specific local base.
Trends for the Future
Small businesses can thrive in the post-pandemic landscape by committing to a wholistic upgrade of the customer experience. The most important aspect of that upgrade is digital. The epidemic has shifted how consumers shop, greatly accelerating a trend that has been building for years. Online platforms like Shopify will continue to be important revenue drivers. The platform reported that it saw a 62% jump in new stores created between March 13 to April 24 2020, compared to the six weeks before. Seamless cross-channel integration, paired with personal connections and community involvement, will help small retail businesses of the future stay competitive.
Supporting Small Businesses of the Future
Beltmann Integrated Logistics has been serving the retail industry for more than two decades. As retail practices continue to shift in a post-pandemic world, you need a partner who can quickly respond to your needs and adapt solutions for your business. Our retail and logistics management services handle everything from fixture installation to inventory management. Contact us today to start preparing your business to meet the needs of tomorrow.
Benefits of Consolidated Services. Consider a few key benefits when deciding if consolidated services are right for you. Reduce Waste Improve speed of delivery Cut costs Preferred / bulk rate Reduce small pick ups Build supply chain relationships Keep within tight deadlinesMeet compliance standardsFewer touchpointsReduce risk of damage to freightBeltmann Integrated Logistics leverages an inpressive curated list of warehouses, carriers, and local service providers and we would be happy to become an extension of your staff. Our innovative processes and external resources allow us to deliver cost-effective logistics services that fit your unique business objectives. Browse our project logistic experience or contact us today.Beltmann Integrated LogisticsSource: https://beltmannlogistics.com