Driving the Future of Retail | Concierge-Level Customer Service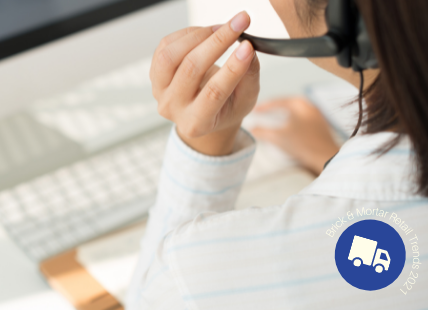 You have the products. You have a digital presence. You have a sleek storefront and consistent branding. Your business is ready to open. But you're missing one thing: a framework to provide customer service. Concierge-level customer service will make your company stand apart and significantly increase brand loyalty.
What is Concierge-Level Customer Service?
Originally popularized in the hospitality industry, concierge-level customer service describes a superior level of service and customer attentiveness. Essentially, it means ensuring your customers have the best experience possible. Answering questions promptly, having an extensive knowledge of inventory, and being ready with suggestions are all baseline requirements for decent retail customer service. Concierge-level customer services requires acting creatively to go the extra mile for your customers. Anticipating pain points before they happen, engaging in random acts of kindness, and making personal emotional connections will distinguish your store from online retailers or other local companies.
Exceptional customer service is incredibly important for your brand's customer base. After a poor brand interaction, 89% of consumers began doing business with a competitor. By emphasizing the needs of the customer, you can create loyal advocates and build your brand reputation.
What Makes Great Customer Service in Retail?
Although it varies by industry, there are a few key elements to creating a concierge-level customer service:
The Right People
The very first step to a positive customer service experience is having employees that are properly trained and willing to help. The proper temperament is a crucial aspect of any good customer service employee. Beyond that, receiving thorough training sets your employees up to deftly address problems. Mentor programs, shadowing periods, and formalized training can all equip your staff with the knowledge to provide the highest standard of service. These are the people who are representing your brand on a daily basis. Make sure they are well trained, friendly, and focused on customer satisfaction.
Consistency of Service
Trust is built slowly, with repeated demonstrations. Providing quality service on one day isn't good enough if they have a negative experience afterwards. With standardized trainings and a company-wide emphasis on customer satisfaction, shoppers can enjoy consistent, predictable, and trustworthy exemplary service. People who always feel cared for and understood are much more likely to recommend your business than those who are subjected to fickle service.
Understanding customer needs.
Listening carefully to complaints and coming up with a personalized solution will not only endear you to your customers, it will help you provide better service. Recognizing shopper's needs, challenges, and motivations will make you a more effective business. Things like going the extra mile to deliver to older customers will make your company stand out.
Employee trust
Empower your employees to solve customer problems. The golden standard for concierge-level service, the Ritz-Carlton, allows every staff member to spend up to $2,000 on a guest without approval from their general manager. Making sure your employees have the resources to independently resolve issues can greatly improve the customer experience. Whether it's offering an impromptu discount on a chipped item or ordering hungry customer a pizza, giving your staff the freedom to act creatively in the face of challenges will immediately boost service.
Signs of Appreciation
Every time someone sets foot in your store, it's a victory. Let your supporters know you appreciate their business with small, spontaneous gifts. An extra scrunchie in an online order or a free piece of candy (with Mom's permission, of course) for tired children can all create personal emotional connections and show that you care.
Proactive
Are you noticing holiday shoppers walking around your store awkwardly holding potential purchases? Can they easily get help from your staff? Are they carrying heavy bags out to their car? Providing baskets, creating informal stations for your staff, and helping with cumbersome purchases can help make the shopping process more seamless. By predicting pain points and acting quickly, you create an environment that promotes easy shopping and superb service.
Enabling Concierge-Level Customer Service
Beltmann Integrated Logistics has been serving the retail industry for more than two decades, and we know the importance of prompt, reliable customer service. Our job is to help you do yours. With superior transportation, distribution, logistics and project management solutions, we have the skills and resources to make your day-to-day business operations as frictionless as possible. Contact us today to get started.
Benefits of Consolidated Services. Consider a few key benefits when deciding if consolidated services are right for you. Reduce Waste Improve speed of delivery Cut costs Preferred / bulk rate Reduce small pick ups Build supply chain relationships Keep within tight deadlinesMeet compliance standardsFewer touchpointsReduce risk of damage to freightBeltmann Integrated Logistics leverages an inpressive curated list of warehouses, carriers, and local service providers and we would be happy to become an extension of your staff. Our innovative processes and external resources allow us to deliver cost-effective logistics services that fit your unique business objectives. Browse our project logistic experience or contact us today.Beltmann Integrated LogisticsSource: https://beltmannlogistics.com