Driving the Future of Retail | Scaled-Down Stores & Pop-Ups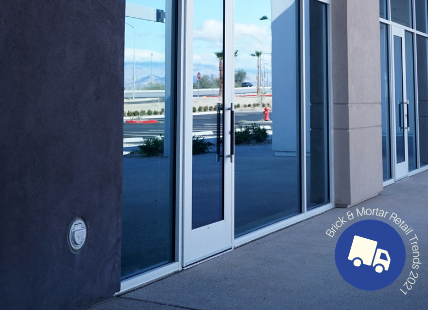 You don't need to read a marketing report to notice that the post-pandemic consumer values convenient buying experiences and needs to connect with brands on a more intimate level before giving them their credit card information.
The new wave of innovative scaled-down stores and pops-ups hints at a larger trend in which shoppers favor smaller stores with a curated selection of goods over cookie-cluttered large retailers.
Scaled-down stores and pop-ups are part of a lucrative "temporary retail" movement that is gaining more traction as both customers and business owners discover its benefits.
Making Lemonade Out of Lemons
Recent reports show that the U.S. has now a significant excess of retail space (23.5 to 46.6 square feet of retail space per person) which led to unprecedented commercial rent decreases. Instead of giving up in the face of closure, many business owners found a lifeline in these low-cost retail spaces and turned them into a sandbox for testing novel concepts and winning back customers.
Emerging from lockdown, buyers' appetite for connection was higher than ever. As much as they loved online shopping, they were eager to get back into physical stores. However, after so much time indoors and with reduced budgets, they wanted to invest their time - and money - in more exciting, meaningful shopping experiences. "Soon, a physical impression is going to be more affordable and higher quality than a digital impression," explained Ben Seidl, Founder of Neyborly, a platform that connects brands with commercial spaces.
Scaled-Down Stores Versus Pop-up Shops
Scaled-down stores and pop-up shops are two bold formats under the "temporary retail" umbrella and they're both becoming a marketing mainstay.
Scaled-down stores allow large big-box retailers to solidify their brand loyalty and tap into dense populations that normal-sized stores would not fit into. Target started going small years before the pandemic. In 2015, the retail corporation opened the first scaled-down Target Express store in College Park, Maryland., which was about one-tenth the size of a normal store. Several years later, the pandemic has forced many businesses to follow suit as a way of staying afloat. But this concept was so well-received by the public that companies continue to implement it.
Bloomingdale's, for example, just launched a scaled-down retail spiff called Bloomie's, which is focused on contemporary, and luxury brands for men and women.
Pop-up shops, on the other hand, appeal to small business owners as well as digitally native brands seeking to experiment with brick-and-mortar spaces. Some pop-ups look like regular stores, but many have whimsical setups designed to delight customers.
Pop-up shops can take a variety of forms including:
One-time events. These are ideal for testing the local retail market.
Immersive experiences. This format allows customers to engage with products using all their senses.
Temporary retail spaces. They are great for switching from online to brick-and-mortar, in order to simulate the retail experience and asses operational demands.
These stores' fleeting presence helps companies create urgency, exclusivity, and generate excitement for their products without spending a fortune on marketing. For companies, one of the pop-ups' main selling points is improved brand awareness. People are more likely to remember a product after interacting with it in person versus seeing an advertisement. According to Storefront, 80% of global retail companies have successfully incorporated pop-up stores into their marketing strategies.
Unique logistical challenges
Pop-ups might cost less money to open and run than regular brick-and-mortar stores, but they also come with complex logistics. With limited on-site storage, companies should pay close attention to inventory management to make sure they don't oversell their inventory. For online brands, having a pop-up store can disrupt operations. Using tools that allow for multiple inventory location management, minimize human errors, and out-of-stock situations is crucial. All these considerations can also put a strain on companies that are just starting to test this business format.
Working with a logistics partner can significantly ease the burden. An experienced logistics operator can provide professional, customized transportation services focused on shipping delicate products with or without packaging. They also oversee products that require specialized handling, delivery, and set-up, all while ensuring on-time delivery to the right location.
Beltmann Integrated Logistics delivers all these services and more. If you're considering opening up a pop-up store, we'll go above and beyond to meet your unique transportation management requirements and help you save money in the long run.
Contact us today or call 1-877-518-2863 to get started!