Driving the Future of Retail | Growth of Omni-Channel Strategies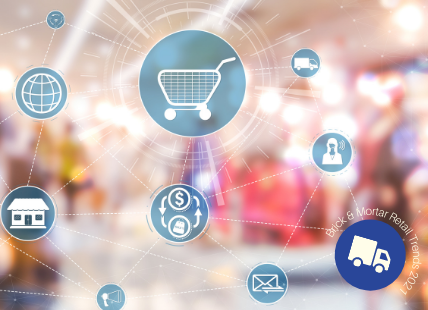 Every business process is relative to another. In today's world, we purchase products online in seconds and need those items quickly. Modern retail shopping has become reliant on avoiding delays or roadblocks to keep up with modern day demands. Your alignment of internal processes, strategies, and solutions must work cohesively to serve your customer, from the initial engagement of a consumer to the moment they receive their items. Otherwise, returns, poor reviews, and a lack of brand loyalty can be detrimental to your image and bottom line.
Your livelihood revolves around the idea that omni-channel strategies must exist and need to continue to expand through every facet of your retail business.
What is Omni-Channel Retailing?
The omni-channel retailing definition is a little different for everyone. However, it is the general concept of taking a multi-channel approach to retail sales with a focus on giving your customer a seamless experience. Omni-channel is more than just using multiple channels; it is the connection of all of those channels and their existence as a cohesive unit.
Omni-Channel Retailing Examples
Consider the many ways a customer can interact with you. Now picture all of those entry points, conversations, and conversions working as one. Here's the concept with a step-by-step example to better explain:
You operate numerous brick and mortar stores, are connected to fulfillment centers, have a large digital selling platform, and attract sales through social media platforms.
Step #1: Your brick and mortar store can quickly submit an online order and set up shipping if an in-person shopper wants to order more product not locally in stock.
Step #2: Your fulfillment centers are automatically notified of the new shipments.
Step #3: Your digital platform updates the reduction in stock available when the order is processed.
Step #4: Your customer receives a "thank you" email with calls to action (CTAs), encouraging them to follow your different social platforms with the incentive of receiving a discount code for their next purchase.
You may already have some of these connections in place, but there are plenty of reasons you should consider continuing to grow your omni-channel strategies.
How to Improve Omni-Channel Retailing
There are endless ways to grow your omni-channel presence, but the first question to ask before you expand is "why should I care?" Simply put, acquiring users through multiple connected channels increases your profits. The Harvard Business Review found that customers who used 4+ channels spent 9% more in the store and 10% more online, on average, when compared to those who used just one channel.
Omni-channel retailing is about removing the silos of your business to have a seamless service. Some common ways to do this:
Review your omni-channel retail analytics – What current connections do you have that are performing well? Which ones are not? An audit of your omni-channel presence is the first step toward understanding how to improve omni-channel retailing.
Update your omni-channel digital strategy – Using metrics to inform business decisions, re-work your online and in-store acquisition, engagement, and conversion processes. Your digital strategy includes web purchases, but also has to do with in-person connections. Improvement should also be more than fixing what isn't working, it's also about enhancing where you are performing well.
Scale your omni-channel fulfillment strategy – Your products and marketing strategies will get you through the purchase phase, but you need a quick and efficient fulfillment process to retain customers. Make sure your fulfillment operations are aligned with site, store, and branding changes. With updates, you should expect to see increased buying habits which you will need to be prepared for.
Partner with an Experienced Retail Logistics Provider
Achieving an exceptional omni-channel structure for your business will likely require assistance from a professional logistics partner with expertise in retail logistics services. From transporting and installing new fixtures, to warehousing and inventory management with the latest technology, the team at Beltmann Integrated Logistics is your partner to trust. Grow your business through an omni-channel approach that is supported by the experience and resources you need.
Give us a call at 877-518-2863 for more information on how we can help you foster growth, and contact us today to get started.
Benefits of Consolidated Services. Consider a few key benefits when deciding if consolidated services are right for you. Reduce Waste Improve speed of delivery Cut costs Preferred / bulk rate Reduce small pick ups Build supply chain relationships Keep within tight deadlinesMeet compliance standardsFewer touchpointsReduce risk of damage to freightBeltmann Integrated Logistics leverages an inpressive curated list of warehouses, carriers, and local service providers and we would be happy to become an extension of your staff. Our innovative processes and external resources allow us to deliver cost-effective logistics services that fit your unique business objectives. Browse our project logistic experience or contact us today.Beltmann Integrated LogisticsSource: https://beltmannlogistics.com