5 Hospital Relocation Challenges and How to Overcome Them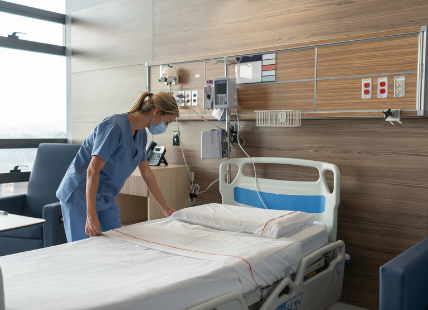 Hospital relocation requires extensive planning, but with the right team assisting your move, it is often the best solution to upgrade growing or outdated facilities.
Challenge #1: Hospital Relocation During the Pandemic
Across the United States and around the world, hospitals are overwhelmed with COVID-19 patients. A relocation may feel challenging at this time, even if it might be the only way to make space for additional beds.
However, relocation is possible and can be outsourced to a 3PL team that can tackle every aspect of it – from planning, to setting up equipment in your new facility. Hospital relocation may also be a solution to a longer term problem. Even once the majority of our population is vaccinated, it may take some time for patients, particularly those in a medical setting, to feel comfortable in close quarters with others. Moving to a larger facility can improve the safety of hospital staff and patients, with greater ability to practice social distancing. The right team will be able to make this happen while using PPE to minimize the spread of infection.
If you are not ready to move to a permanent new location, temporary hospital settings can also help alleviate the strain on your hospital and enable you to serve more people, safely.
Challenge #2: Continued Operation and Patient Care
Due to the essential nature of their work, many of your departments will be unable to set aside a significant amount of time for a relocation. Careful scheduling and prioritization can overcome this challenge and ensure your patients receive the care they need and deserve. Plans will also be made for senior and vulnerable patients that may struggle with a move, to ensure the experience is as stress-free as possible.
Choose a trusted, reliable team to create a schedule based on experience and expertise.
Challenge #3: Movement of Pharmaceuticals and Equipment
Hospital equipment is essential, high-value and often fragile. Drugs must be moved with care and attention. Here are a few tips for moving these essential items:
Create an inventory of drugs and equipment to account for everything.
Move pharmaceuticals using temperature controlled or other specialist vehicles where necessary.
Ensure equipment is moved by a team that is experienced in hospital relocation.
Use appropriate equipment to move large, specialty items.
Work with a team that is able to set up tools and instruments in their new environment.
Challenge #4: Balancing Forward Thinking and Flexibility
A good hospital relocation team will have every step of your move planned out, while remaining flexible when necessary. Your team should understand that hospital demand can be impossible to predict, have contingency plans in place, and the ability to think on their feet.
Take a look at our Hospital Relocation Checklist to gain insight into the relocation process.
Challenge #5: Choosing the Right 3PL Team
Choosing the right third-party logistics team to take on your move is the first step to success. When it comes to hospital relocation in particular, experience is everything.
Choose a team that has proven its abilities in medical settings time and time again. Beltmann Integrated Logistics has:
Contact Beltmann Integrated Logistics today to learn more about our seamless hospital relocation services.
Healthcare Logistics 101 COVID-19 has had a significant impact on healthcare practices, staff and processes. If you don't already outsource your healthcare logistics, now may be the time to act. This article will help you better understand what healthcare logistics includes and how it can help your business. How Can Healthcare Logistics Help My Team? Flexibility to Meet Your Neesd. One of the great things about working with 3PL is that you can plick and choose from the services you need. Your 3PL team should have the experiience and ability to provide all related services, and be able to increase and decrease the services they provide for you as and when required. Next time you need to send or received PPE urgently or need to open a temporary facility due to an influx of patientss, your 3PL will be by your side to help make this happen as efficiently as possible, and ahve the flexibility to meet your needs. Save Time & Money. Your team is doing essential work. Give your internal team members the time they need to focus on their areas of expertise. A professional 3PL will be able to use its expertise to get the job done quickly and streamline processes. Working with 3PL can also help you save money. 3PLs may also benefit from preferred pricing and know how and when to negotiate. Combined Healthcare & Logistics Expertise. Choose a 3PL team with specialist healthcare experience. It is essential that you feel you can trust your 3PL team to handle, deliver, move and install high value equipment and have an understanding of your industry. A 3PL will have logistics expertise that your internal team can't match. If you choose a 3PL with healthcare logistics experience, they will be able to combine their healthcare industry insight with their knowledge of logistics to provide optimal support and help you move towards more efficient processes. Get Started Now. We specialize in healthcare equipment logistics and medical relocations. Contact us today to learn more about how we can help. Learn more at www.beltmannlogistics.com