What is Freight Forwarding?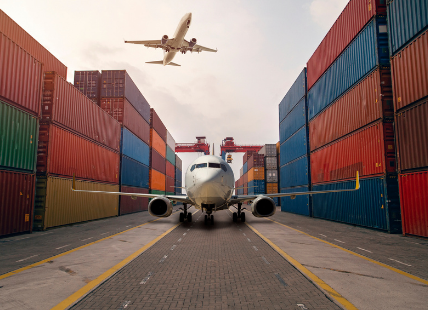 Freight forwarding is a process that makes it easier for a company to coordinate the shipment of goods to their customers. It's when a third party, typically a forwarding company, sets up the shipment of goods from one destination to another one. These freight forwarding service companies organize the entire process and they use a variety of transportation modes, including:
Air Transport

Ocean Transport

Trucking/Roadway

Railway
A freight forwarding company specializes in arranging the cargo on behalf shippers, providing a range of supply chain services that includes cargo insurance, customs compliance, documentation preparation, warehousing and storage, shipping insurance, and management of inventory. Some freight forwarding companies handle international transport while others only handle transportation within one country.
How Does Freight Forwarding Work?
The freight forwarding process is actually quite simple. Freight forwarding firms negotiate with shipping providers and get the best possible price for the company that is making the shipment. This is done by comparing all of the requisite shipping routes and picking the option that provides the most effective and efficient service in regard to cost, speed, and overall reliability. The freight forwarding process includes transferring goods from the shipper's location to their warehouses. Next, the freight forwarder ensures the goods were not lost or damaged during the first phase. For international transport, the firm obtains customs clearance for the transport of shipments from the country of origin. The next phase of international transport for freight forwarding would be imports customs clearance with authorities in the country of destination inspecting the goods. Finally, the freight forwarding services are completed with a final check that all of the information on the documents is correct and all paperwork has been received. Then they'll inspect the cargo and sort it.
What are the Benefits of Freight Forwarding?
There are some excellent benefits associated with freight forwarding, beginning with the fact that companies can save money:
Save on Shipping Costs
For companies that are shipping many products, they can get better shipping rates if they combine all of their shipments. The freight forwarder will make sure the most cost-effective mode of shipping is chosen.
Professionalism
Another benefit is timely pickup and delivery. A professional freight forwarding firm specializes in making sure the process is planned out properly, from the start to final delivery. If anything comes up, such as a delayed delivery, the freight forwarder will be there to handle the issue.
Tracking
Efficient tracking of your shipment is another benefit. Freight forward companies have easy-to-implement tracking systems that keep track of your cargo. This gives companies peace of mind because they can easily look up and follow when their shipment will reach its destination.
Safe and Secure
Understanding that their cargo is safely and securely in the hands of a freight forwarding company is another reason many companies choose to use them. Freight forwarders have the right tools, equipment, and knowledge to ensure the cargo is secure and safely packed during the entire process.
Documentation
Documentation that is incomplete or not accurate can lead to long, costly delays. In many cases, financial institutions will put the transaction of your money on hold. A good freight forwarder will make sure that all of the documentation and paperwork is proper and legal.
A professional, successful company that offers freight forwarding services is a great choice for many companies. At Beltmann Integrated Logistics, we are committed to quality and excellence. We are the transportation management professionals you can trust to take care of all your logistics needs.
Contact us today, or call 877-518-2863 to find out more about our professional logistics solutions.
Benefits of Consolidated Services. Consider a few key benefits when deciding if consolidated services are right for you. Reduce Waste Improve speed of delivery Cut costs Preferred / bulk rate Reduce small pick ups Build supply chain relationships Keep within tight deadlinesMeet compliance standardsFewer touchpointsReduce risk of damage to freightBeltmann Integrated Logistics leverages an inpressive curated list of warehouses, carriers, and local service providers and we would be happy to become an extension of your staff. Our innovative processes and external resources allow us to deliver cost-effective logistics services that fit your unique business objectives. Browse our project logistic experience or contact us today.Beltmann Integrated LogisticsSource: https://beltmannlogistics.com