Supply Chain Predictions for 2022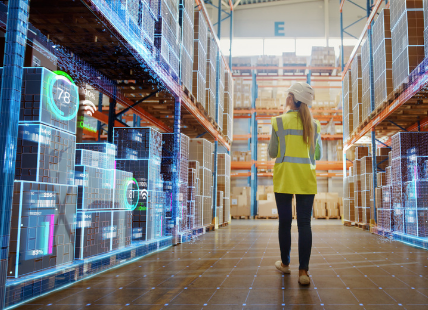 The year 2021 brought us a lot of challenges in the logistics industry. From port issues to labor shortages to an increase in cyberattacks, the entire industry spent the year struggling through disruptions in the supply chain. As they say, what doesn't kill you makes you stronger. With challenges, come opportunities!
With 2022 well underway, we're going to discuss some trends that supply chain experts are predicting for this year and beyond.
More of the Same in 2022
A majority of the issues that affected the supply chain the last couple years will continue this year. In this tight labor market with a shortage of truck drivers, prices will continue to rise. With the rise in inflation, along with shortages of supplies such as paper and plastic, there will be continued delivery delays which will lead to many unhappy retailers, distributors, and consumers. It's been a very volatile supply chain market, and this will continue to be the case this year. Things will get better as the year goes on, though. Inventories are moving closer to normal along with a reduced rate of consumption as the world moves past the Covid pandemic. These factors will contribute to much better conditions within the supply chain.
Increase in Technology Spending
Artificial Intelligence (AI) and automation spending will increase as companies look to increase efficiencies and utilize machines to complete tasks that don't necessarily require a lot of thought. This technology enhances human efforts by making simple, repetitive tasks automated, allowing humans to work on more advanced tasks. AI also helps companies manage inventory and predict purchasing demands by unearthing patterns in the supply chain. Many supply chain companies will continue to spend on cloud-based ERP (enterprise resource planning) software that helps them plan out and manage supply chain operations.
Utilization of Data will Continue to Increase
Many businesses will continue to leverage the power of business intelligence software, allowing them to make data-driven decisions to keep their supply chain running smoothly. From customer reviews to key performance indicators, data is critical for any company, especially in today's supply chain market. loT (Internet of Things) devices are programmed for specific applications, such as live tracking for shipping and delivery. This real time data helps companies make smart decisions that will lead to improved efficiency.
Increase in Supply Chain Integration
Companies will continue to integrate and build partnerships with third parties to help reduce supply chain costs and improve customer service. An integrated supply chain helps give a high-level overview, improving all aspects of the process with this shared knowledge. This leads to a much leaner, more efficient supply chain. Third-party logistics providers (3PLs) provide order fulfillment along with inbound and outbound freight management for companies and many businesses will continue to take advantage of these services in 2022. 3PL technologies give supply chain managers a great tool in which to integrate multiple systems via an API and connect them to the cloud.
Team Up with an Experienced 3PL Partner
Today, supply chains are on the way to recovery after a tumultuous couple of years. In 2022, the flexible, creative, innovative companies will overcome challenges and lead the industry with smart strategies and foresight.

Beltmann Integrated Logistics is an experienced, innovative 3PL that many companies have leveraged to successfully navigate the supply chain. Partnering with the innovative team at Beltmann Integrated Logistics provides the knowledge and experience needed to implement and optimize your connected supply chain. Regardless of the industry you're in, our team provides personalized assistance throughout the process.
Our industry-leading expertise enables us to provide solutions in:
Contact us today or call 877-518-2863 for more information.
Benefits of Consolidated Services. Consider a few key benefits when deciding if consolidated services are right for you. Reduce Waste Improve speed of delivery Cut costs Preferred / bulk rate Reduce small pick ups Build supply chain relationships Keep within tight deadlinesMeet compliance standardsFewer touchpointsReduce risk of damage to freightBeltmann Integrated Logistics leverages an inpressive curated list of warehouses, carriers, and local service providers and we would be happy to become an extension of your staff. Our innovative processes and external resources allow us to deliver cost-effective logistics services that fit your unique business objectives. Browse our project logistic experience or contact us today.Beltmann Integrated LogisticsSource: https://beltmannlogistics.com