Trucking Logistics Services & Definitions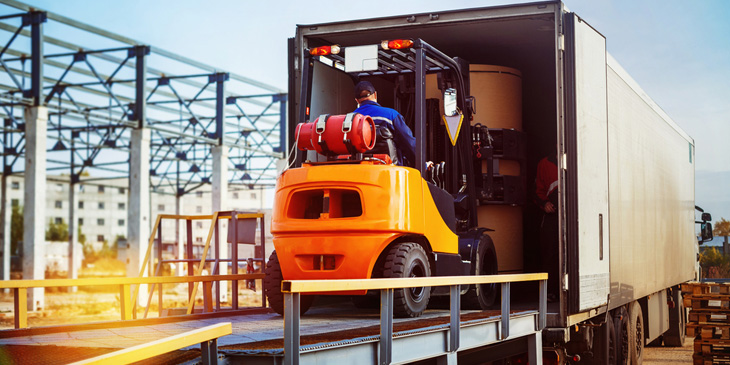 Any successful business selling products that need to be delivered in a timely manner understands the importance of trucking logistics. Trucking logistics is important not only for large businesses, but for small and medium sized businesses as well.
What is Truckload Logistics?
As the highway system in the U.S. expanded in the 50's, full truckload shipping became a common way for companies to transport goods throughout the country. Today, truckloads move across the country in a matter of days and follow well-planned routes that maximize efficiency. Choosing a trucking logistics company that has proven experience safely transporting products all over the country is an important decision that can have a dramatic effect on your business.
Selecting a transportation logistics company that works as an extension of your team and treats your products with care is critical for business success.
Why, you ask?
Because effective trucking logistics creates value. The quality of the products a business offers is important, and ensuring the availability of the product is a crucial aspect that adds value. What good is a product if it takes forever to reach its customers? Well thought-out trucking logistical services will make your products readily available to a bigger audience, creating more value. Successful businesses understand this and hire transportation logistics companies they can depend on to move their products.
Definitions of Trucking Logistics Services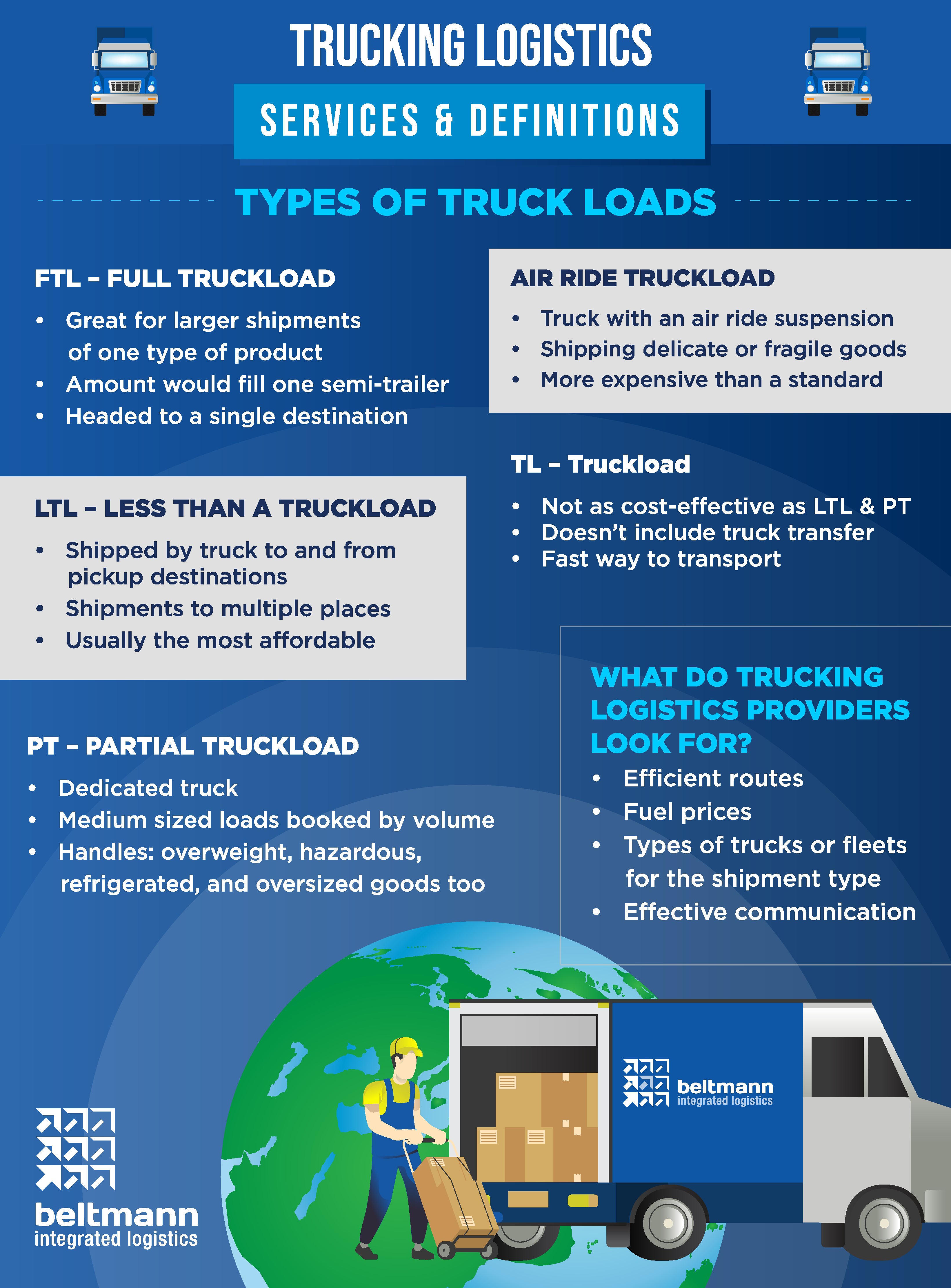 FTL – Full Truck Load
Full truckload shipping is a great choice for larger shipments of one type of product. The quantity of product would typically be the amount that would fill one semi-trailer, with the freight often heading to a single destination.
LTL - Less than Truckload
LTL is a very common way to ship freight. It's typically shipped by truck to and from chosen pickup and destination locations. Due to the fact that the truck includes multiple shipments from multiple businesses, this is usually the most affordable trucking logistics service.
PT - Partial Truckload
Partial Truckload differs from LTL freight in that it involves a dedicated truck that contains medium sized loads booked by volume, as well as handling all types of products, including overweight, hazardous, refrigerated, and oversized goods.
TL - Truckload
Some commodities have special requirements – they need to be refrigerated or climate controlled, or due to being oversized or overweight they need a flatbed or some other special accommodation. This kind of trucking logistics service is not as cost-effective as LTL and PT, but due to the fact that it doesn't include truck transfers, it can be a fast way to transport goods.
Air Ride Truckload
If you need to ship delicate or fragile goods, they need to be handled with the ultimate care. In this case, a truck with an air ride suspension would be the best option because an air ride provides a softer ride than your standard freight truck. As you can imagine, this type of trucking logistics service isn't used that often so it's typically a bit more expensive than a standard truckload shipment.
How is Trucking Logistics Handled by Transportation Companies?
Trucking logistics strategists look at every aspect of a business and figure out enhancements and improvements to maximize results. Due to the fact that trucking services are the main transportation mode for transporting goods across the United States, having an experienced, well-equipped, innovative trucking logistics company can save you money and increase efficiency.
What Do Trucking Logistics Providers Look For?
The most efficient routes
Fuel prices
Types of trucks or fleets conducive to the needs of the shipment
Effective communication between drivers and locations
Trucking logistics companies should have an in-depth understanding of your particular needs, and they should try to increase efficiency and minimize obstacles for each shipment that needs to be sent out. A seamless, well-planned process will lead to successful shipping from start to finish.
Is Truckload Shipping Right For You?
If you need to ship components for industrial production with a time-sensitive mandate, have products that require special handling, or need to transport delicate, high-value equipment, then truckload shipping from an experienced team is something you should research.
What Kinds of Items are Commonly Shipped?
If you have a full truckload worth of products or goods to transport across the country, truckload shipping is likely to be the most cost-effective logistics solution for you. Items shipped by truckload can vary, of course, but typically include the following:
Clothing
Food
Machinery
Industrial Equipment
Materials
Almost anything that can be safely transported in a clean, dependable truck can be done by an experienced trucking logistics provider.
If you are in need of quality transportation logistics that includes transportation management or truckload shipping, contact the helpful team at Beltmann Integrated Logistics!