7 Logistics Safety Solutions for Winter Transportation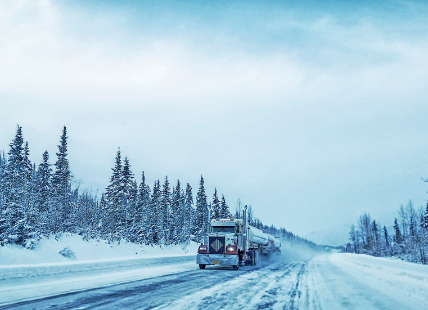 With every season, there are new challenges for logistics companies. However, the winter is always one of the most difficult times of the year to handle transportation and the comprehensive logistics needs that facilitate successful travel. From freight to the air and on the rail, logistics safety solutions must be in place during the winter season.
The professional logistics providers at Beltmann Integrated Logistics have completed thousands of projects amid the most challenging conditions. We've put together a critical information list of seven logistics safety solutions that our clients can benefit from this season, and for years to come.
Partner with us for safe, reliable logistics.
1. Create a Safety Logistics Plan
Protecting health and safety in logistics for employees is a core need for companies handling winter transport. Bad weather, bitter cold, ice, snow, and limited visibility will impact travel for nearly every shipping carrier at some point. A safety logistics plan begins by defining safety for the team, with clear communication regarding limited travel or no travel. While minimal or halted transportation may be difficult, it saves companies time and money by avoiding accidents, damaged products, and more.
2. Address the Need for Heightened Winter Driving Safety
Transportation operators should always be alert while traveling with a shipment, however, harsh conditions make this reminder even more important. Freight carriers handle a large portion of North American transit and winter driving in a semi-truck requires professional skills. Training drivers for winter travel safety is imperative for this reason. Provide simulations for drivers to hone their skills, teach them the best ways to avoid distractions, always set forth guidelines for proper lighting and using safety reflectors, and advise drivers to slow down.
3. Determine Alternative Routes and Transportation Options
Winter weather, particularly snow, tends to slow down transit. Snow plow teams work day and night to clear roadways, generally beginning with the most traveled thoroughfares. If drivers travel on side roads to save on time, they should be encouraged to only use main highways, freeways, etc. during the winter. Additionally, road transport may not always be the best option. Winter logistics is all about having alternative plans in place. For example, if a major snowfall causes road closures or significant delays but the weather has ceased, you may consider alternate travel options like rail or air.
4. Review Equipment Functionality
This tip aligns directly with safety for your operators. Traveling with unsafe equipment is dangerous at any time, but winter travel safety relies on properly functioning vehicles and equipment to stay on the road. Ensure that comprehensive equipment checklists are reviewed and if service is needed, keep the unit in for repair.
5. Communicate
Communication is key to any successful operation, but it is especially important during the winter. If there are last minute changes, due to weather or anything else, communicate those needs to your staff. Providing detailed information to both your external and internal logistics teams can help them prepare to make changes on the fly.
6. Set Clear Expectations with End Users
Communication should extend outside of your organization and affiliates. With the unpredictability of winter weather and related factors, end users must be aware at the start of the ordering process that delays may occur which are outside of your control. Setting expectations from the jump will help to clear up confusion if there are setbacks caused by seasonal delays.
7. Consider Logistics and Supply Chain Impacts
If transit operators can't travel or will be delayed, this will impact the entirety of your processes, as well as those that feed into your logistics systems. If you have picked and packaged products but are waiting on a semi to arrive for loading, this could slow other warehousing operations that are in line to move forward. Additionally, expected supplies heading to your facilities that are delayed slow your teams that are ready to prepare these items for transport. Your safety logistics plan can be structured so that even when external delays occur because of the weather, you continue operating efficiently.
Four Seasons Logistics Specialist
Beltmann Integrated Logistics has overcome winter logistics challenges for more than two decades. We are an experienced third-party logistics (3PL) provider that is prepared for every season.
If you have transportation needs, we have the full-service logistics solutions to complete your projects during the most difficult times.
Contact us today for assistance with your project goals.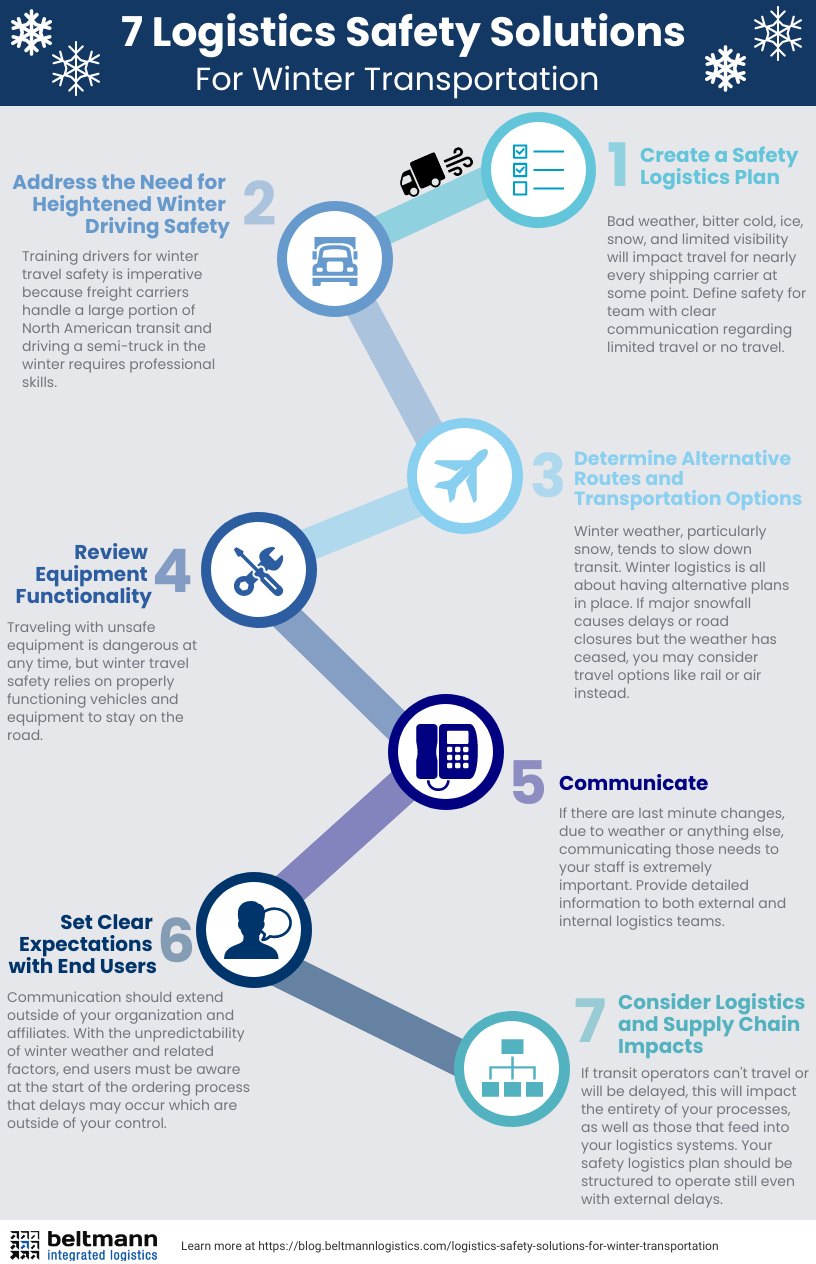 Benefits of Consolidated Services. Consider a few key benefits when deciding if consolidated services are right for you. Reduce Waste Improve speed of delivery Cut costs Preferred / bulk rate Reduce small pick ups Build supply chain relationships Keep within tight deadlinesMeet compliance standardsFewer touchpointsReduce risk of damage to freightBeltmann Integrated Logistics leverages an inpressive curated list of warehouses, carriers, and local service providers and we would be happy to become an extension of your staff. Our innovative processes and external resources allow us to deliver cost-effective logistics services that fit your unique business objectives. Browse our project logistic experience or contact us today.Beltmann Integrated LogisticsSource: https://beltmannlogistics.com