5 Effective Scalability Strategies for Retail Logistics Users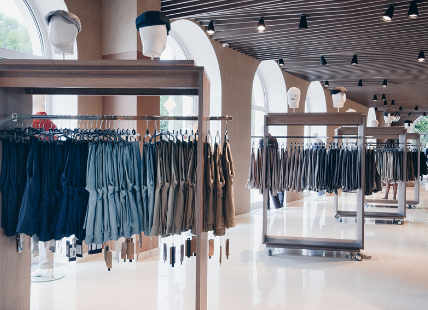 Why is logistics important for the retail industry? How do successful logistics companies navigate the complexities of rising demand? What should retail logistics users look for in their logistics partner?
Logistics in the retail industry is constantly evolving and professional retail logistics service providers must be able to answer these questions and others by scaling to the fluctuating demand for products and the support mechanisms and fixtures those products rely on. Some are easier to prepare for than others. For example, the holidays seem to always have heightened demand. However, other situations aren't as simple. Hot retail trends catch on like wildfire with customers, causing short supply issues. Natural disasters and weather events also cause delays for high-demand products, leaving unprepared logistics companies scrambling for transportation and fulfillment alternatives.
Beltmann Integrated Logistics offers a heightened level of expertise when it comes to retail logistics solutions. With comprehensive, flexible processes in place, we are prepared for the unpredictable times, yet don't "overprepare" by restricting valuable resources for a project that may not come to fruition.
Our team has put together a list of five effect scalability strategies that retail logistics users should be able to count on from their retail logistics partner.
1. Develop Informative Communication
Products are placed into the hands of customers in critical times, thanks to resourceful individuals that have clear communication channels available when things go wrong. The best retail logistics solutions are designed with tools that quickly remove roadblocks. When an issue arises, the procedure to overcome that challenge should be fairly seamless. If you are a retail provider, you want to know that your logistics partner has a plan to mitigate delays. On the back end as a logistics company, that begins with quick communication capabilities and resources to achieve progress through well-defined internal and external steps.
2. Identify Supply Chain Oddities, Staffing Concerns, and Fulfillment
It's always best to be prepared. Logistics in the retail industry is no exception to that rule, especially when retail demand skyrockets. Professional retail logistics providers have mechanisms in place to determine concerns in supply, far in advance of product depletion. If staffing enough employees to complete the sorting, packing, or shipping of high-volume items is the issue, your partner should have reserve plans in place to bring in additional assistance. Additionally, no step of the fulfillment process should ever stall. Experts in retail logistics circumvent gaps in the process to continuously moving products and processes forward in an efficient manner.
3. Always Have Transportation Available
A network of freight carriers should expand beyond having enough trucks and drivers to serve daily projects. When emergencies arise, the retail logistics specialists at Beltmann Integrated Logistics have a team to ship and deliver items at a moment's notice. Additionally, carrier evaluation is never stagnant. Even in critical-need situations, shipping rates must remain cost effective and detailed for a retail user. Beltmann provides a wide variety of shipment options for our clients, and they receive inherent value from our relationships with each carrier in our network.
4. Leverage the Power of Automation Technology
The human ability to complete tasks is entirely necessary for scaling to retail business needs, however, many data entry or communication methods can be completed with the help of automation. This saves time for the retail logistics provider and translates into time saved for retail logistics users. The use of enterprise resource planning (ERP) software and other business planning tools can help providers handle demand increases faster than many manual methods.
5. Invest in Quality Along with Quantity
Broken fixtures or missing products in orders won't help end users, and often cause headaches in order to rectify. Retail companies should work with a retail logistics provider that believes in quality deliverables. Shipping and fulfilling faster than a competitor may always seem like a better option on paper, but it shouldn't. If quality must be sacrificed to complete the order, an entirely new set of problems arise.
Partner with a Retail Logistics Provider that can Meet your Needs
From navigating demand influx because of popular retail trends, to managing a custom transportation team, Beltmann Integrated Logistics has retail logistics solutions for any challenge, and is your partner for complete scalability. As a trusted third-party logistics (3PL) provider, we have served numerous retail partners in a variety of industries since 1998. No matter your logistics need, we have the resources, processes, and people to help you achieve your time sensitive project goals.
Get started today, and contact us for more information about what a partnership with Beltmann Integrated Logistics looks like for you.
Benefits of Consolidated Services. Consider a few key benefits when deciding if consolidated services are right for you. Reduce Waste Improve speed of delivery Cut costs Preferred / bulk rate Reduce small pick ups Build supply chain relationships Keep within tight deadlinesMeet compliance standardsFewer touchpointsReduce risk of damage to freightBeltmann Integrated Logistics leverages an inpressive curated list of warehouses, carriers, and local service providers and we would be happy to become an extension of your staff. Our innovative processes and external resources allow us to deliver cost-effective logistics services that fit your unique business objectives. Browse our project logistic experience or contact us today.Beltmann Integrated LogisticsSource: https://beltmannlogistics.com