How to Move Medical Lab Equipment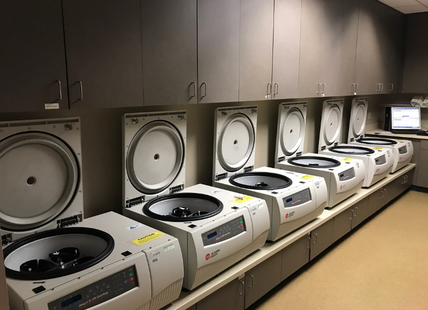 If you're expanding into a new space, moving, or consolidating laboratories, lab equipment moving can be tedious, costly, and risky; lab equipment can be fragile, breakable, and valuable. When relocating, expanding, or moving a laboratory, every detail is crucial. An important first step stakeholders overseeing the lab relocation project must take is finding an experienced lab relocation specialist. The use of a relocation service provider that has experience in transitioning labs will streamline your new lab location set up and validation, ensure the protection of instruments, machines, and other lab equipment, and provide your staff with real-time visibility throughout the lab equipment moving process.
Packing, transporting, and unpacking valuable, delicate items that are commonly found in a lab equipment move requires an experienced logistics company that truly knows what they're doing. If you are looking to relocate your lab or just a specialized piece of equipment, you'll need a team of logistics professionals who understand the complexities that come with this kind of move. The choices that are made for the logistical tasks within these complex moves are more than a simple choice, as it should be a part of the risk mitigation plan for the overall project.
Lab equipment moving requires thoughtful, prudent, documented steps and includes many details that must be addressed to ensure maximum uptime during the entire process. All of the lab equipment has to be inventoried and great care must be taken in packing and transporting the items to their new home.
Our lab equipment moves often involve the safe, secure moving of:
Analytical instruments
Clinical lab equipment
Microscopes
Histology/pathology equipment
Laboratory supplies
Liquid Chromatography (HPLC)
Gas Chromatography (GC)
Microplate equipment
Antibodies/reagents
Laboratory pumps
Centrifuges
Chromatography
Spectroscopy
Imaging systems
From the initial stages of planning the lab equipment move to packing, transporting and setting up your lab in a new location, the company you choose for this task must have a proven process and communicate with you throughout the entire move. They must use high quality packing materials with a proven process of prepping the shipment to prevent damage. Clean, safe vehicles and specialty lab moving equipment utilized by an experienced, professional team, will make your lab move as efficient as possible and allow the new lab to be operational as quickly as possible.
Contact Us
Beltmann Integrated Logistics can help you minimize lab downtime and ensure the safe movement of all your lab equipment. Founded in 1998, our team has successfully moved lab equipment for many clients, providing high quality transportation, distribution, logistics, packing/moving and project management services.
Beltmann Integrated Logistics provides exceptional, specialized moving services for laboratories, minimizing downtime for medical facilities, biotech companies, universities, and pharmaceutical companies that are relocating or are affected by a transitioning lab.
Beltmann Integrated Logistics can simplify the complexity of your lab move by utilizing the experience and expertise gained through many successful transitions.
Contact us today, or call 877-518-2863 to find out more about our professional lab equipment moving solutions.