How to Improve Supply Chain Visibility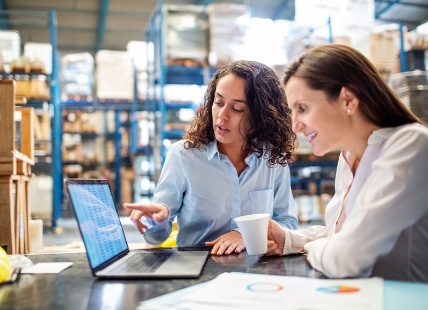 Supply chain visibility is when all involved parties have access to real-time information at each stage of the supply chain, allowing them to track products, components, parts, or services from the supplier to the final destination. An effective supply chain improves all aspect of logistics, allowing you to use data to analyze and adapt it to make it a more efficient supply chain. Supply chain visibility gives you real-time access to the information your business needs for continual supply chain improvement. A visible supply chain makes data available to all parties involved, strengthening and enhancing it to ensure a better overall experience for all.
Now that we know what supply chain visibility is, it begs the next question: how can you improve supply chain visibility? Let's take a further look at some of the ways you can improve this important process:
Have Transparent Communications with Your Suppliers
A high-quality supply chain pulls data from suppliers' systems, allowing businesses to have access to updated information about shipments, suppliers, and other factors affecting the supply chain. This allows your business to be proactive and prevent problems before they happen. Transparent communication with suppliers will give you a competitive advantage over companies that use old, outdated databases, allowing you to keep tabs on everything – from your supplier's transportation routes to their warehouse as well as the supplier's suppliers.
Share Shipping Info across Internal Departments
All relevant stakeholders must have access to timely, up to date information about all shipments. Real-time data of shipments allows internal teams to schedule production orders in a timely manner, coordinating the delivery of items based on an up to date understanding of when they will arrive. This improved visibility into materials, parts, and other items in transit will provide a seamless, efficient, and well-coordinated transportation logistics aspect to an efficient supply chain. Any unexpected delays can be identified and all internal teams will know of any issue and work – together - around it.
Meet Internally to Constantly Improve Visibility
Have regular meeting with all of your internal teams that are part of the supply chain. Ensure they have what they need to continually improve and become more efficient. Whether it's weekly or monthly, it must be a regular part of the process. Make sure each team has access to all pertinent data and work with them to define strategies and goals and expectations of their particular department.
Put all Data on One Platform
Your logistics partner should have a software platform that makes the supply chain process seamless, easy to access, and transparent to all involved within the supply chain. This will improve the supply chain and make the overall experience much better for the end customer. A powerful platform will optimize business decisions by leveraging the power of accurate data and real-time information to meet customer demands. There's always room to improve when it comes to supply chain visibility. Having the right integrated communication platform in place will go a long way in improving your supply chain visibility.
Work With a 3PL Specialized in Connected Supply Chain Management
A professional, experienced 3PL team will manage all aspects of your supply chain. Partnering with an innovative 3PL like Beltmann Integrated Logistics allows you to leverage our knowledge and experience to implement and optimize your supply chain and improve its' visibility. Whatever industry you are in, our team can provide you with personalized assistance throughout the process.
Our industry-leading expertise enables us to provide solutions in:
Contact us today or call 877-518-2863 for more information.