3 Reasons to Use a 3PL While Realigning Your Store Footprint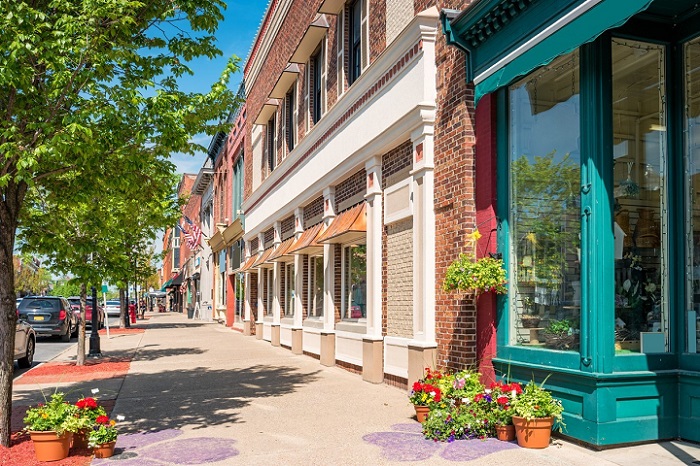 One trend for retail in 2019 is to rightsize and realign store footprint to meet the demands of the changing economy. You may find yourself juggling excess inventory and fixtures. This can be an important period of transition for your company, so it's essential that you streamline this process in a cost-efficient manner with minimal risk.
This is as an important time as ever to choose a logistics provider that can meet your company's needs. Here's what a 3PL can offer:
1. A Robust Cross-Country Provider Network
There are a lot of moving parts when it comes to transferring inventory and fixtures, whether it's redistributing to a viable productive store or to a major distribution center. You'll want to this process to be as streamlined and cost-effective as possible.
Some retailers make the mistake of cutting corners by using local movers who don't have the reach to make this process efficient. It ends up taking more time and increases the likelihood of mishaps and miscommunication, which can ultimately be costly to you. In comparison, a 3PL has a seamless network of providers already in place that can get the job done quickly.
2. Expert Handling
Your store fixtures, display items and other furniture are valuable assets, so when you're transferring them you need experts who know how to handle them. A 3PL provides optimal damage control and experienced handlers who know exactly how to pack, move and store your assets with minimal damage.
3. Short- and Long-Term Warehousing
Some of the unseen complications of rightsizing include delivery timing and storage. If your shipment arrives at the wrong time at a store, you end up paying overtime. If you don't have anywhere to store your assets during redistribution, you either have to spend your own valuable time finding temporary storage, or you have to ship your inventory to a distribution center that is out of the way.
The solution to these timing issues is warehousing. A nationwide 3PL will offer convenient warehousing solutions, which means you can store your assets as long as you need to during the realignment process. This saves your company time, money and headache.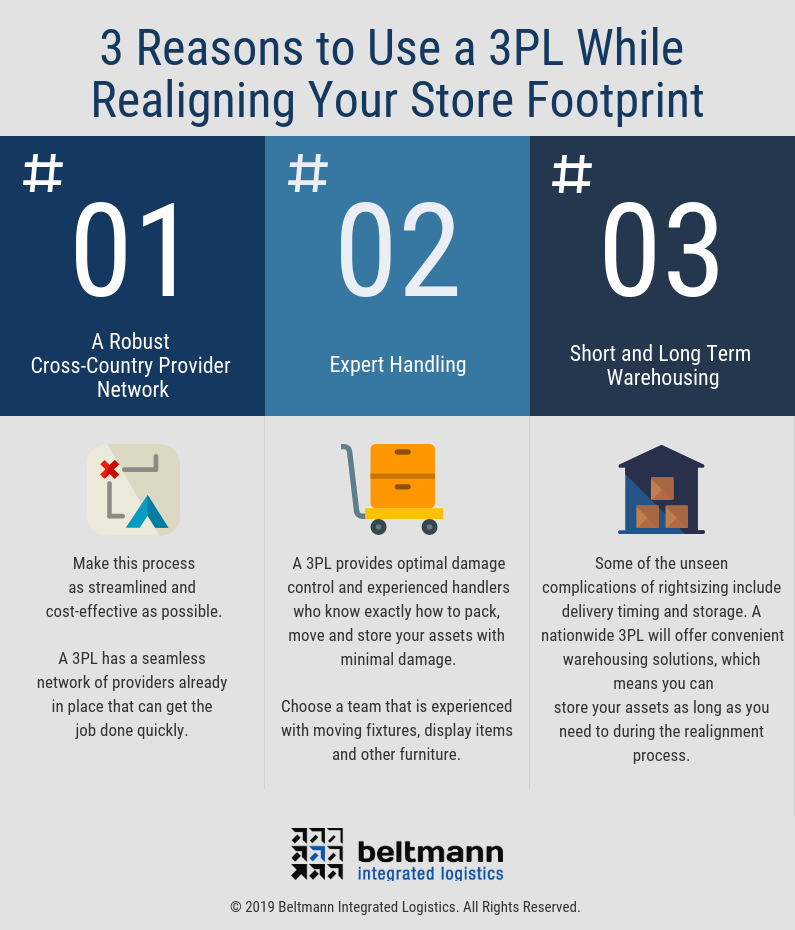 Contact Beltmann Integrated Logistics
During the critical time of transition during your store's rightsizing, don't cut yourself short when it comes to protecting your assets and delivering them efficiently. A 3PL will be your most cost-effective and reliable logistics option. Contact Beltmann Integrated Logistics to get started today.
Author: Augie Kim, Beltmann Integrated Logistics Project Specialist.