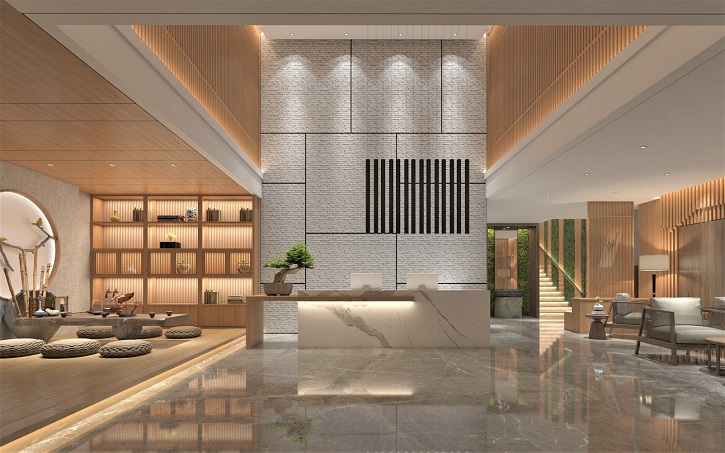 What is FF&E?
FF&E stands for "Furniture, fixtures and equipment", and is a term generally used in the retail industry, hospitality industry and by third party logistics companies, as well as other businesses in similar industries.
The kind of business that uses FF&E services requires furniture, fixtures and equipment that are readily and often changed and movable. Hotels, for example, must always have furniture and fixtures that look new and on-trend. Retail stores must continuously update their furniture and fittings to catch the attention of new customers, and keep the attention of loyal customers.
The kind of furniture, fixtures and equipment that the term FF&E refers to are not connected to utilities, are not permanently affixed to the building in any way and can easily be replaced with changing seasons and styles.
Furniture, fixtures and equipment may include seating, carpeting, curtains, lighting, artwork and countless other items.
FF&E Design Trends
Hotels follow their own interior design trends. Hotels use FF&E services to stay on trend, to attract new guests and stay ahead of competitors, including other hotels and Airbnb's. Here are a few hotel FF&E design trends to note.
Mix and Match Style
Perfectly matching colors and prints are perhaps too predictable for today's modern hotel-goers, who prefer an eclectic, mix and match style. Instead, choose colors and prints that work together and complement one another for a look that is a little more unique.
Open Spaces
Wide, open spaces never go out of style. Keeping your hotel communal areas clutter-free is one hotel trend that will make the area appear larger. Minimal, movable furniture also means the space is versatile and can be easily transformed depending on need.
Cater to Millennials
Many hotel trends involve choosing youthful designs that will appeal to Millennials, a demographic known for a love of travel.
Top tip: Furniture designed with outlets and USB ports within it is a must-have convenience for tech-savvy Millennials.
Local Influence
Featuring local art, including painting and photography of the local area, can position your hotel as a local attraction in itself, being so ingrained in the community. This is an attractive quality for those traveling to the area for leisure. Beyond FF&E, this hotel trend can attract guests looking for that local experience that Airbnb promotes, whether this be through serving local dishes, or evening performances from locals.
Health & Fitness
Living a healthy lifestyle has never been more popular. Setting up a hotel gym with fitness machines is a strong selling point for business travelers looking to keep up their weekly routine and those on vacation that enjoy working out and making the most of hotel amenities. FF&E Services can help you stay up to date with the latest fitness machines.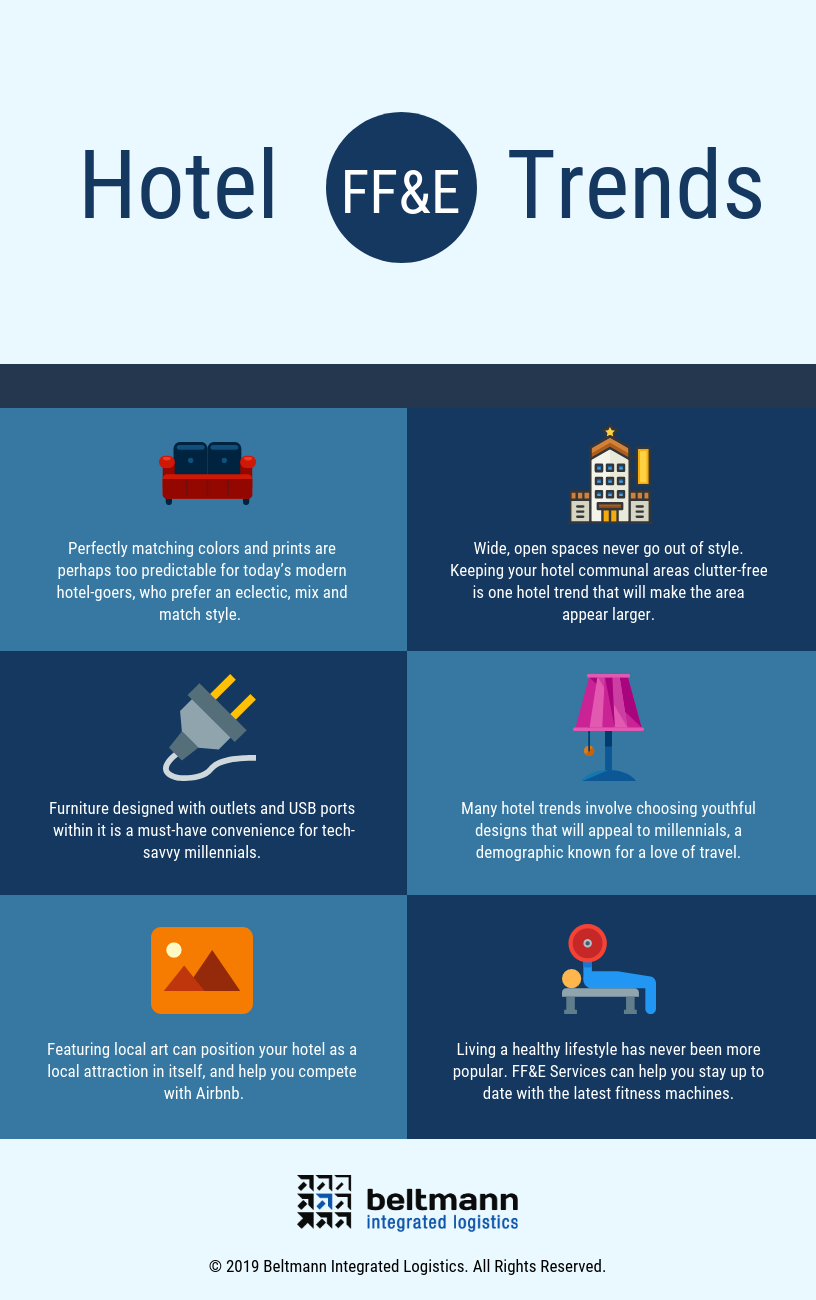 Contact Beltmann Integrated Logistics
FF&E services can help you keep your hotel looking fresh and on trend, seamlessly. Without the unnecessary expense and commitment of furniture, fittings and equipment, staying up to date and relevant is simple. Contact Beltmann Integrated Logistics for FF&E services as well as countless other 3PL and 4PL services, from warehousing and staging of FF&E, to transportation management.