Why Choose a 3PL with a Transportation Management System?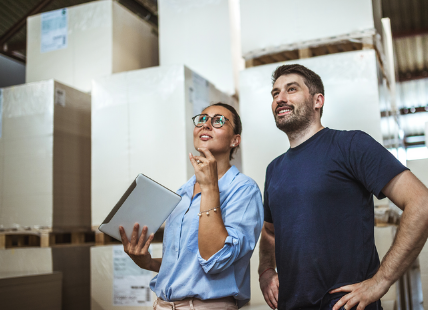 When looking for the right third-party logistics (3PL) team to assist your business, factors like technology, efficiency and accountability are all top concerns. Choosing a 3PL with a transportation management system (TMS) can help ensure all these needs are met and more. Seamless freight management and logistics processes can improve your business and it all starts with a quality 3PL.
What is a Transportation Management System?
A transportation management system may also be referred to as "transportation management software" or a "transportation management solution". A good TMS will ensure a logistics company is able to manage freight more efficiently and successfully than its customers could, in-house. Regardless of how familiar a business is with its own logistics processes, 3PL TMS solutions are unparalleled in their ability to manage transportation needs.
Transportation management systems are used by logistics companies to plan transportation, enable visibility, ensure the timely movement of freight and more. A good transportation management system can enable the success of a logistics company, making the transportation process simple and efficient.
What is the ELD Mandate?
There are countless benefits of choosing to move your freight with a logistics team that makes use of TMS technology. Here are just a few:
A 3PL with a TMS will be able to find the fastest, most efficient routes for your freight, keeping time and monetary costs down.
Moving freight is more affordable when using a 3PL with an efficient TMS.
Transportation management systems can enable visibility, allowing your 3PL team to track your freight and share information in real time between all parties involved.
With a TMS, your 3PL will be able to provide high quality, dependable freight services on a consistent basis.
Advanced TMS technology can help logistics companies make use of data and predictive analytics to optimize routes.
With real-time information available, your 3PL will be able to quickly adapt routes due to weather, traffic and other unforeseen circumstances.
If you're in need of a 3PL to take care of complex shipping requirements, choosing a logistics team with a TMS is essential.
Whether you're a local manufacturer, medium-sized supplier or a large international corporation, choosing a 3PL with a TMS can improve your shipping processes exponentially. To find the most affordable solutions, take care of complex shipping needs, ensure constant visibility and increase efficiency, a good TMS is a must.
By choosing a 3PL with a transportation management system, you're more likely to be a happy customer, and keep your own customers satisfied.
Beltmann Integrated Logistics has a vastly experienced team ready to offer exceptional transportation services. We specialize in providing efficient transportation solutions, warehousing, healthcare and hospitality logistics services, FF&E services and more. From moving medical supplies to COVID-19 hospital wings, to setting up your new retail store, we're here to provide the optimum efficient logistics solution. We are a 3PL you can trust, with all our freight processes seamlessly managed and tracked through our high-tech TMS. Contact Beltmann Integrated Logistics today to get started.
Healthcare Logistics 101 COVID-19 has had a significant impact on healthcare practices, staff and processes. If you don't already outsource your healthcare logistics, now may be the time to act. This article will help you better understand what healthcare logistics includes and how it can help your business. How Can Healthcare Logistics Help My Team? Flexibility to Meet Your Neesd. One of the great things about working with 3PL is that you can plick and choose from the services you need. Your 3PL team should have the experiience and ability to provide all related services, and be able to increase and decrease the services they provide for you as and when required. Next time you need to send or received PPE urgently or need to open a temporary facility due to an influx of patientss, your 3PL will be by your side to help make this happen as efficiently as possible, and ahve the flexibility to meet your needs. Save Time & Money. Your team is doing essential work. Give your internal team members the time they need to focus on their areas of expertise. A professional 3PL will be able to use its expertise to get the job done quickly and streamline processes. Working with 3PL can also help you save money. 3PLs may also benefit from preferred pricing and know how and when to negotiate. Combined Healthcare & Logistics Expertise. Choose a 3PL team with specialist healthcare experience. It is essential that you feel you can trust your 3PL team to handle, deliver, move and install high value equipment and have an understanding of your industry. A 3PL will have logistics expertise that your internal team can't match. If you choose a 3PL with healthcare logistics experience, they will be able to combine their healthcare industry insight with their knowledge of logistics to provide optimal support and help you move towards more efficient processes. Get Started Now. We specialize in healthcare equipment logistics and medical relocations. Contact us today to learn more about how we can help. Learn more at www.beltmannlogistics.com