How to Create your Innovative Supply Chain Strategy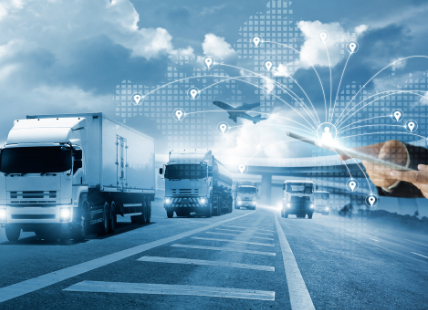 Your supply chain is the backbone of your business; it keeps you connected to your customers, enables you to serve them where they are, and ensure they receive what they need accurately and on time. Supply chain innovation is key to keeping up with competitors, company growth and increasing revenue. Today we explore why business owners should invest in supply chain innovation, and outline innovative supply chain strategies for 2022 and beyond.
What is an Innovative Supply Chain?
According to Merriam Webster, innovation is "the act or process of introducing new ideas, devices, or methods."
An innovative supply chain is one that makes the most of the above, to improve any aspect of logistics. This involves analyzing and adapting the supply chain, based on data, technology and industry knowledge, to optimize processes.
Why Invest in Your Supply Chain Strategy?
In order to keep ahead of competitors, innovation is key. This is true of countless areas of business, from product development, to sustainability. Your supply chain is not necessarily the first area of business you think of when you consider how you will innovate, but perhaps it should be. Your logistics processes impact countless areas of business, including profit and loss, customer service and how fast you can deliver.
Benefits of an innovative supply chain include the following:
Cost and time savings: Learn how much you could save with a new, innovative supply chain that is designed to reduce wasted time and money. Many companies see phenomenal return on investment after investing in supply chain innovation.
Customer service: by analyzing customer data and feedback, you can optimize your supply chain to better serve your customers. Perhaps delivery times are too long or irregular, or your customers need a better way to track your products. You can satisfy customers with improved logistics processes.
Improved reach: Whether this means improved product or parts availability, or reduced shipping times, a 3PL with a nationwide or international reach can help you supply what your customers need, when they need it.
How to Improve Your Supply Chain Strategy
There are many tactics you can use to gain insight into your supply chain and identify opportunities for improvement. The following tips will help you gather information to improve your supply chain strategy.
Use data: Gather and analyze your own data and use wider market and industry data, to find low-hanging fruit and opportunities for improvement.
Look to competitors: Do any of your competitors demonstrate the ability to fulfil orders more quickly? Do they deliver product with fewer damaged pieces, or are their shipments timelier? Do they have better relationships with customers, and if so, why? Identify where your competitors excel to find out how you can catch up.
Consider your technology: Is your technology up to date and best serving your needs? Do you have a budget to improve technology, or would you benefit from working with a 3PL that has advanced technology?
Review your partnerships: Which partnerships are working for your business, and are any no longer working? Consider how you can help one another for mutual benefit.
Talk to your customers: Ask your customers what they like and dislike about working with your business, and how you can improve your services.
Areas for Review
To create a truly innovative supply chain, it is necessary to pay attention to detail and review every step of your logistics process. To keep this task manageable, create a list of key areas for review and work on them one by one. Here are a few of the most common over-arching areas to tackle:
Warehousing and distribution.
Brick and mortar stores or locations.
Work With a 3PL to Manage Innovative Supply Chain Strategies
A 3PL can help you identify areas for improvement, optimize your supply chain, and implement any changes you see fit. A good 3PL will be able to assist you every step of the way, whether you're reviewing your supply chain due to big business changes, or to improve current processes. From analyses to execution, your 3PL will be by your side to improve your logistics processes.
Beltmann Integrated Logistics is here to serve you with exceptional supply chain strategy services. We have the breadth of experience necessary to support you in every logistics endeavor, from warehousing to transportation needs. Contact us today or call 877-518-2863 for more information.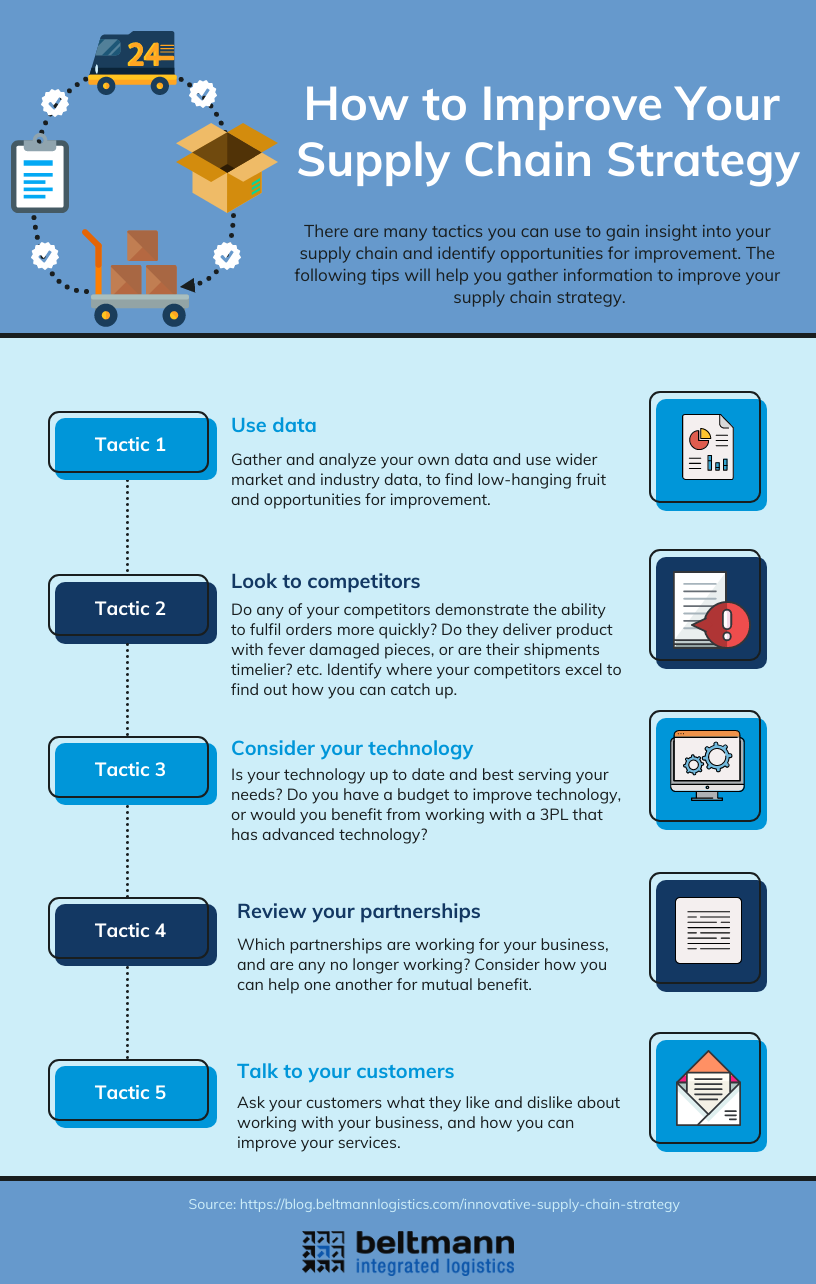 Benefits of Consolidated Services. Consider a few key benefits when deciding if consolidated services are right for you. Reduce Waste Improve speed of delivery Cut costs Preferred / bulk rate Reduce small pick ups Build supply chain relationships Keep within tight deadlinesMeet compliance standardsFewer touchpointsReduce risk of damage to freightBeltmann Integrated Logistics leverages an inpressive curated list of warehouses, carriers, and local service providers and we would be happy to become an extension of your staff. Our innovative processes and external resources allow us to deliver cost-effective logistics services that fit your unique business objectives. Browse our project logistic experience or contact us today.Beltmann Integrated LogisticsSource: https://beltmannlogistics.com