Complete Your Hospital Build with a Fit Up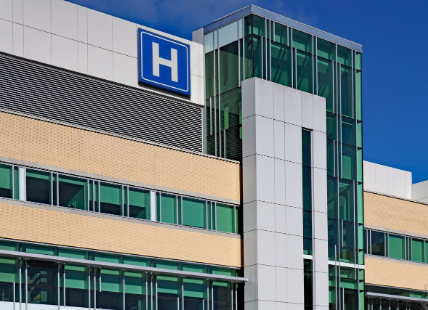 If you've recently moved to a new hospital location or built a newly constructed medical facility, you're in the right place. You may be wondering how to complete the project to ensure your new space best meets your needs. Learn more about how the hospital "fit out" or "fit up" phase can add value and ensure your space is transformed into an optimal working environment.
What is A Fit Up?
The "fit out" or "fit up" phase is also commonly called the "build out" or "initial outfitting". This type of project tailors your space to best meet the needs of your application. In some sense, a hospital fit out is comparable to FF&E installation in the retail and hospitality sectors. The build out process may include the following and more:
Improving room layout for use.
Installation, set-up and testing of medical equipment.
Rearranging furniture and equipment.
The implementation and testing of IT equipment.
Set up of security and monitoring equipment.
Cleaning and maintenance tasks.
Preparing the space for large equipment moves.
Relocating any items from one space to another.
Fire and safety related assessments and tasks.
Distribution of materials to ensure rooms are stocked and ready for use.
Adding finishing touches, artwork and décor.
Why Complete a Hospital Fit-Out or Initial Outfitting?
You've invested time and money into acquiring a new space; it's worth investing a little extra to ensure it is set up for best use. Once you start working in your new environment, it's unlikely that you'll have the opportunity to clear the space, step back and make any significant changes. Take the time now to ensure it is set up to make day to day life easier, more efficient and pleasant.
Once the fit out is complete, your space will be ready for use, and optimized to make every day better for your patients and staff.
How to Choose a Hospital Fit Out Team
To ensure your space can be used in the best way possible, choose to work with a hospital fit out team whose expertise you can trust:
Choose a team that is familiar with your industry and has experience installing and moving medical equipment.
Find a team that will communicate with you to understand your unique goals and processes. Expect to work with a single point of contact so you always know who to turn to with questions or concerns.
Opt for a third-party logistics (3PL) team with the network and variety of services you need. A good 3PL will be able to offer a comprehensive solution, from warehousing to transportation.
Contact Beltmann Integrated Logistics for Your Initial Outfitting
Beltmann Integrated Logistics is proud to provide the medical community with high quality fit up services. We have comprehensive experience working with hospitals and medical facilities of all sizes, completing hospital relocations, moving, transporting and setting up medical equipment, and more. Previous projects include:
Contact Beltmann Integrated Logistics today to discuss your build out or medical logistics needs.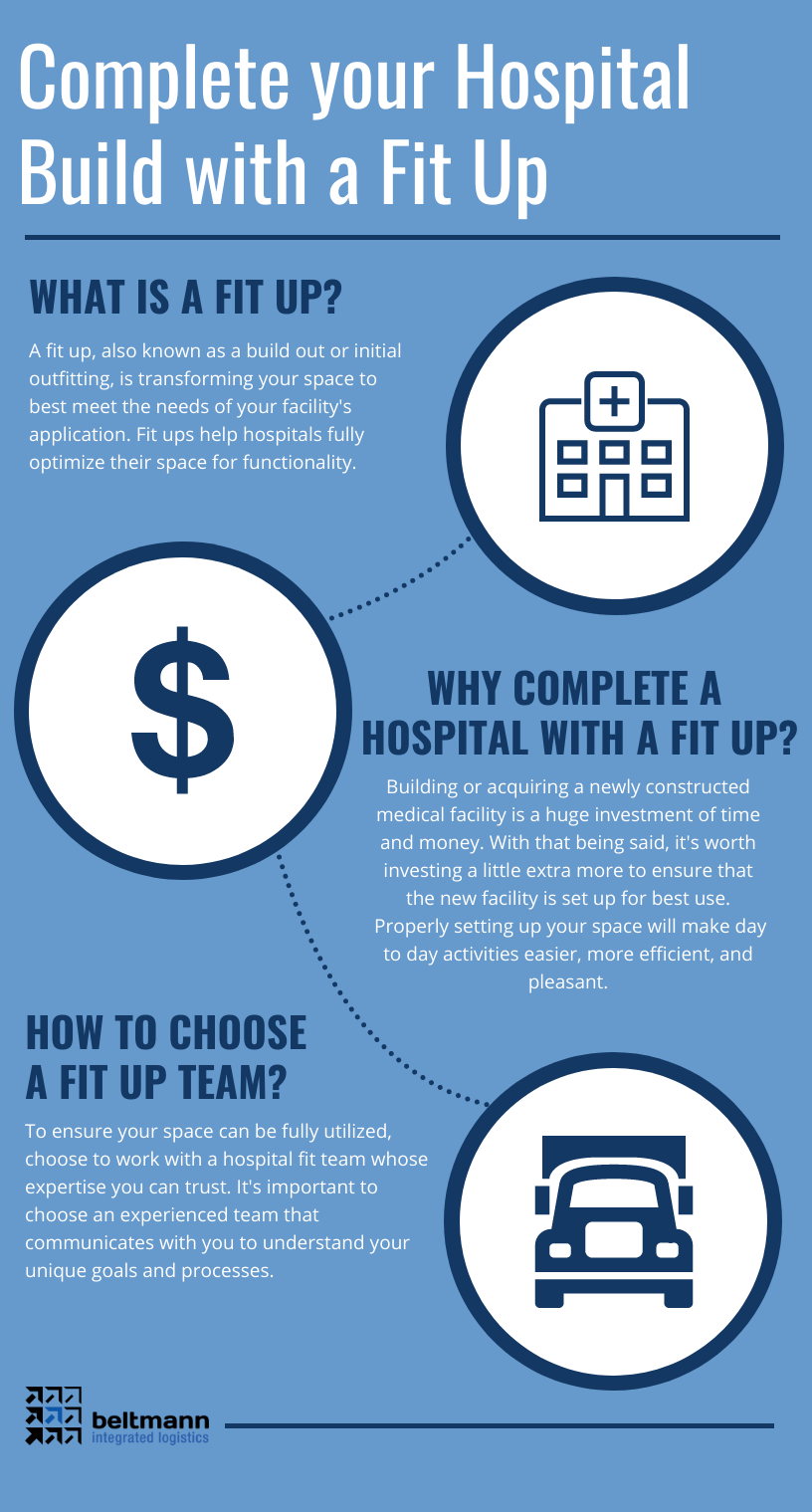 Healthcare Logistics 101 COVID-19 has had a significant impact on healthcare practices, staff and processes. If you don't already outsource your healthcare logistics, now may be the time to act. This article will help you better understand what healthcare logistics includes and how it can help your business. How Can Healthcare Logistics Help My Team? Flexibility to Meet Your Neesd. One of the great things about working with 3PL is that you can plick and choose from the services you need. Your 3PL team should have the experiience and ability to provide all related services, and be able to increase and decrease the services they provide for you as and when required. Next time you need to send or received PPE urgently or need to open a temporary facility due to an influx of patientss, your 3PL will be by your side to help make this happen as efficiently as possible, and ahve the flexibility to meet your needs. Save Time & Money. Your team is doing essential work. Give your internal team members the time they need to focus on their areas of expertise. A professional 3PL will be able to use its expertise to get the job done quickly and streamline processes. Working with 3PL can also help you save money. 3PLs may also benefit from preferred pricing and know how and when to negotiate. Combined Healthcare & Logistics Expertise. Choose a 3PL team with specialist healthcare experience. It is essential that you feel you can trust your 3PL team to handle, deliver, move and install high value equipment and have an understanding of your industry. A 3PL will have logistics expertise that your internal team can't match. If you choose a 3PL with healthcare logistics experience, they will be able to combine their healthcare industry insight with their knowledge of logistics to provide optimal support and help you move towards more efficient processes. Get Started Now. We specialize in healthcare equipment logistics and medical relocations. Contact us today to learn more about how we can help. Learn more at www.beltmannlogistics.com