Why is Logistics Important?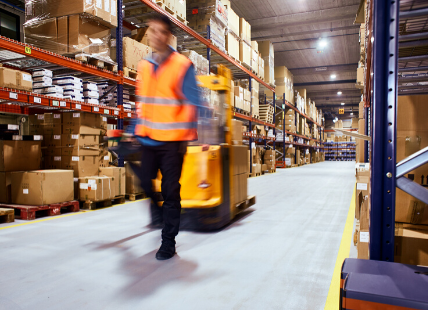 In recent years, business investment in logistics has become increasingly important, as supply chains have become more complicated and businesses now regularly span across multiple locations, some serving the nation and even the world. Greater complexity means a great need for good logistics services.
In our modern world, logistics has become an essential part of every business, and good logistics practices can make or break a company in terms of success. Logistics is integral to every aspect of the supply chain.
Logistics may be even more important than the majority of business owners realize. In fact, according to Greenwoods, Ltd., "The amount spent on logistics is higher than what have been spent on advertising, twice that spent on national defense and equal to that spent on medical care." This statement alone is demonstrative of the fact that logistics is of very significant importance.
If you have been wondering "why is logistics important?", we are here to help. A good understanding of why logistics is important to our economy, and to individual businesses, can help you make profitable decisions when it comes to your own business practices.
Why is Logistics Important to Our Economy?
The impact logistics has on the economy should help put into perspective how important logistics is to business success.
Good logistics is essential to support our economy. Good logistics practices can:
Increase productivity
Improve the availability of products, encouraging sales
Effect pricing
Improve the ability of a nation to compete in global markets
Improve industry profits
Reduce operating costs
Thanks to the beneficial impact streamlined and efficient logistics can have on the economy, this leaves businesses able to re-invest, hire new workers and continue the cycle of improved economic growth.
Why is Logistics Important in Business?
You might be wondering how this economic view of logistics affects your own business. When it comes to considering, "why is logistics so important in business?", all of the above reasoning can be applied to your own, individual supply chain and business plan. Who doesn't want their business to benefit from increased productivity, have reliable product availability, or for industry profits to improve? With all of these factors explained, there is no reason to continue wondering, why is logistics important?
No matter what industry your business falls into or how you choose to do business, good logistics is an essential component in the vast majority of sales, in terms of products and services.
Essentially, good logistics can make businesses more productive and more competitive. Logistics can impact your bottom line and make your business more successful and more profitable. In turn, your efficiency will also benefit your customers, and the economy.
Contact Beltmann Integrated Logistics
Learn more about why logistics is so important by improving your own logistics services. Contact Beltmann Integrated Logistics to get started.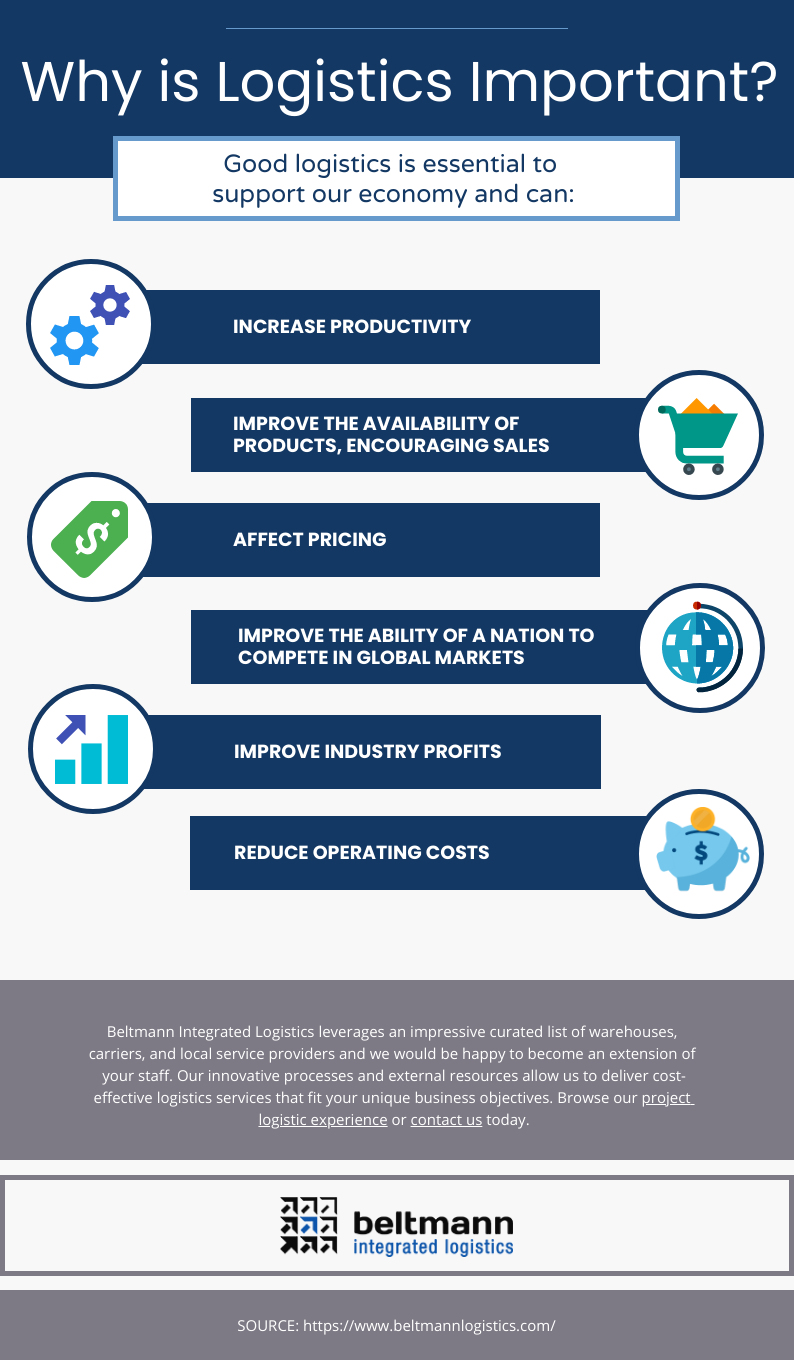 Why is Logistics Important? Good logistics is essential to support our economy and can: Increase productivity Improve the availability of products, encouraging sales Affect pricing Improve the ability of a nation to compete in global markets Improve industry profits Reduce operating costsBeltmann Integrated logistics leverages an impressive list of curated warehouses, carriers, and local service providers and we would be happy to become an extension of your staff. Our innovative processes and external resources allow us to deliver cost-effective logistics services that fit your unique business objectives. Browse our project logistic experience or contact us today.Beltmann Integrated LogisticsSource: https://www.beltmannlogistics.com