Post-Pandemic Effects on FF&E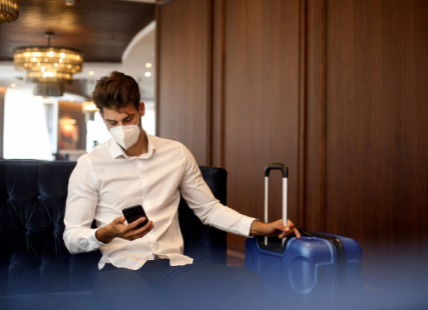 It's no secret that industries like hospitality and retail have had to adapt to the effects of the pandemic. Trends have changed and the demands of consumers are different than before. There are also new operational challenges to consider, ranging from additional safety measures to the unfortunate economic downturn that has led to minimal staffing.
All of these changes have affected the way businesses rely on FF&E (Furniture, Fixtures & Equipment) services. Companies who supply FF&E solutions or provide the logistics coordination for these products must also adapt to remain current and competitive.
Hospitality, retail, and healthcare projects are all being completed under new requirements. If you depend upon providers of FF&E services for successful handling and transportation of your products, you need a professional third-party logistics (3PL) company who is up to speed and can be a reliable partner for your needs.
Let's take a look at some of the ways FF&E services are changing, based on post-pandemic business needs.
Businesses are more reliant on technology
With fewer people to manage information, data, and resources, the ability to integrate with technology platforms and remote access is vital for productivity.
For example, hospitality FF&E companies who manage logistics for new furniture, lighting, dining room chairs, and more must be able to input real-time delivery and inventory information in a way that is transparent and can be viewed in the systems and processes used by the business who made the order.
Expert 3PLs have made modifications to ensure these transactions remain tracked in a cost-effective, reliable manner.
Technologies like TotalTrak allow for 24/7 access to inventory and tracking data so businesses remain in complete control of scheduling and decisions for their endeavors.
While internal staff may be shorthanded, a reliable 3PL will always have dedicated project managers, installation technicians, and transportation services coordinators available to offer comprehensive communication and to implement FF&E solutions.
FF&E demand may be on the rise
The pandemic reduced many businesses to only the essentials in a variety of industries.
Healthcare
At the height of coronavirus transmissions, many hospitals and healthcare facilities neared or reached capacity for patient care.
2020 changed the outlook for organizations in the industry. While some facilities planned renovation projects, they may have held off to maximize space for patients.
Hospitality
The hospitality industry decreased its overall capital expenditures by about $5 billion between 2019 and 2020 and major brands like Marriott delayed FF&E reserve funding for six months, early last year.
But in 2021, travel, entertainment, and the need for hospitality accommodations is returning. For the first time since early March of 2020, U.S. hotel occupancy surpassed 60% this past May. Hoteliers are also preparing for a wave of summer travel as restrictions and mandates soften.
Resurgence
With hospitality, healthcare, and even many retail construction and other industry projects pushed off, the demand for capital improvements and FF&E is expected to rebound and could exceed previous demand with so many projects waiting to be completed. These projects are also likely to require more professional logistics and implementation support, as the workforce has been impacted.
If you face the challenge of increased demand and a smaller team, turn to a professional 3PL partner with experience to achieve your goals. A successful 3PL will be able to assist with FF&E and all the additional logistics and transportation associated with your project.
Project scopes and facility needs have changed
Business owners are rethinking the way budgets are being created in the post pandemic world and many projects are transforming in terms of scope.
There is plenty of new construction underway, but the reinvigoration of what already exists is becoming increasingly popular. For example, instead of deconstructing and building a new retail location, facilities are being reformatted and reinvigorated with new design elements and renovations. Reusing what currently exists is helpful for controlling costs and often requires less time.
Additionally, the way in which consumers interact with products is always considered when designing facilities with FF&E solutions. The pandemic changed consumer buying behaviors and many are arguably here to stay.
A report by Retail TouchPoints noted that in retail settings, buy online, pick up in store (BOPIS) services increased by 28% year-over-year. McKinsey & Company says that 56% percent of consumers are reporting they will continue to use models such as BOPIS, post-pandemic.
FF&E logistics organizations who have been following these shifts are ready to adapt to your changes. From counters and collection areas in new pick-up bays to reverse logistics capabilities for the removal of old technology to make way for new implements, your FF&E solutions partner must be welcoming of facility transitions to accommodate new needs.
Coronavirus 3PL Services for Your Modern FF&E Needs
The pandemic and its lingering effects continue to change the way businesses rely on FF&E, and the team at Beltmann Integrated Logistics has adapted with every new turn. Choose a 3PL that can provide you with logistics and implement FF&E using tactics that remain relevant.
We welcome every challenge and look forward to discussing your future plans for your retail, hospitality, or healthcare facilities. Contact us today to get started or call 877-518-2863 for more information.