How to Keep Freight Moving During Hurricane Season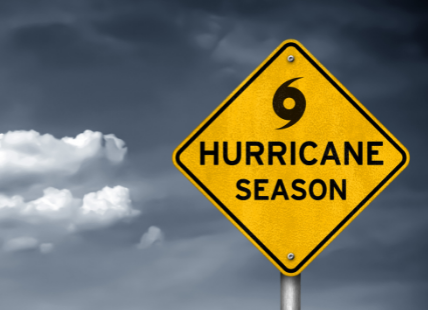 Communities are often ravaged by natural disasters like hurricanes and tropical storms, which cause destruction and displace residents. However, companies who work with freight transportation providers in the transportation management and supply chain logistics industries have the opportunity to minimize disruption, even when mother nature has other plans.
Businesses who are prepared and develop emergency logistics planning in natural disasters are better able to continue normal or near-normal operations, saving them time and money that others may lose.
How Do Natural Disasters Affect Logistics?
No matter the solution, some natural disasters, such as hurricanes, can have catastrophic effects that are out of the control of any company. In 2005, Hurricane Katrina ravaged New Orleans and the Gulf Coast, with an economic impact of roughly $250 billion.
Direct damage can cause indirect impacts on:
Supply Chains – due to production shortages, a lack of available products, parts, electricity outages, etc.
Economic Interest – devastation can impair certain segments of the economy while boosting others, leaving industries unprepared.
Companies who rely on freight transportation services, such as third-party logistics (3PL) partners, are not immune to these challenges, but organizations who have well-defined plans in place can remain active and operating, even during hurricane season.
Let's take a look at some of the best practices to follow.
Develop the Groundwork of a Disaster Transport Plan
Your planning mechanisms for keeping freight operations moving amid a hurricane or other natural disaster should always start with people who can make informed decisions.
Institute a disaster transport plan committee, consisting of, at minimum, internal management support, a logistics coordinator, and a point person within your 3PL who has experience with national logistics transportation.
Your team can then align on a plan by considering:
Current processes and procedures that are in place and determining how emergency logistics planning in natural disasters should impact alterations.
A list of hypothetical disaster scenarios and how you would coordinate to handle each challenge.
Who you would contact (i.e. vendors, distributors, internal employees, 3PL contacts, and other partners) in the case of each emergency situation.
Determine How You Would Adapt to Economic Volatility
Freight transportation and the business practices that surround it require backup planning during emergencies.
Hurricanes that cause monumental destruction will almost certainly have an impact on pricing. You may never be able to fully predict the economic magnitude, but you can plan ahead during the creation of your disaster scenario list.
Develop answers to the following questions:
What baseline quotes can you provide per order, and how will they change throughout recovery?
How will you bill and develop invoices under emergency circumstances?
What protocols and approval plans will you put in place to expedite orders or at least avoid roadblocks?
What will your payment plans look like?
Assess Products, Transportation Routes, and Capacity Contingencies
Sorting out your freight transportation needs into categories can help you get a better view of what your expected resources may look like during the aftermath of a hurricane.
Here are some additional questions to answer that will help you develop a unique plan:
What products do you need moved and what will the demand look like during a natural disaster?
Where do your products need to travel?

If you have supply chains that run through devastated areas, you may need to consider having secondary entry/exit points in other parts of the country or at designated suppliers who can handle the influx at an affordable cost.

How will you need to adjust your capacity?

You likely already have special requirements for your shipments, such as time or environmental attachments. Develop contingency planning with a 3PL that offers a wide variety of solutions for logistics and freight transportation services. Because of their experience transporting an extensive selection of products, they can adjust freight shipments that may need to be diverted to a different mode of travel to stay on schedule.
Put Your Trust in a 3PL Network of Support to Avoid Delays from Hurricanes
Businesses across the country and around the world trust Beltmann Integrated Logistics as their 3PL of choice because of our experience and the network of support we provide our clients.
We are committed to keeping our customers satisfied, even during difficult times. Our team will work with you to keep your shipments on track to their destinations, no matter the challenges that may arise.
Contact us today to discuss your planning efforts for combatting delays from hurricanes and natural disasters and select us as your partner to count on.