A Novel Approach to Conquering the Global Water Crisis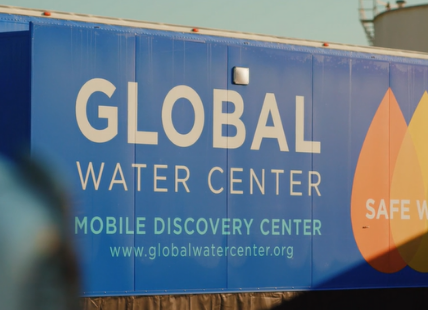 When you're fortunate enough to have easy access to copious amounts of clean water for drinking, cooking, and bathing, it's hard to fathom that safe water remains a precious commodity for one-third of the world's population.
To put things into perspective, water scarcity is a looming death threat for 2.2 billion people, particularly those in poor and rural communities.
Rivers and lakes have become the most degraded ecosystems in the world. Some of these freshwater sources are plagued by pollutants, while others are drying up at an accelerated pace from overuse.
As a result, every 40 seconds, a person dies from a preventable water-borne illness, such as cholera or typhoid fever, totaling more than 2,300 people per day, or 800,000 deaths each year.
Recent statistics have shown that by 2025, two-thirds of the world's population may face water shortages, meaning this crisis will expand its geographical reach to influential metropolises around the world.
Raising Awareness Through Storytelling
As severe as it is, the global water crisis can be reversed through equally significant collective efforts.
This belief is what fuels the Global Water Center's mission of bringing the number of people affected by the global water crisis from 2.2 billion to 0. As part of its plan, the organization recently built a first-of-its-kind Mobile Discovery Center (MDC).
The Mobile Discovery Center from Global Water Center on Vimeo.
The MDC is a COVID-safe 25,000 square foot traveling exhibit meant to change minds and hearts. Visitors enjoy a multi-sensorial journey that helps them get a deeper understanding of the world's global water crisis and makes them excited about advocating for safe water.
Highly interactive visual mediums like augmented reality and radio-frequency identification (RFID) make the MDC experience a memorable one.
Watch this video to get a glimpse of the MDC universe.
A couple of particular highlights you should know about before securing your spot:
The "Water Is Life" exhibit showcases the three states of water (liquid, gas, and solid) depicting the spectacle of water on Earth through impressive visuals, such as a projection globe. You'll learn why water is vital to life, and why having access to it optimizes our wellbeing.

"Water and People"

offers an eye-opening perspective of how water permeates every aspect of our life. This will help you realize the advantages of having easy access to sufficient safe water, but also the hardships faced by less fortunate people. If you're up for a challenge, test your knowledge in a Water Challenge game.

"Water for Everyone"

uses augmented reality to demonstrate how leading-edge technology can be used to deliver safe water to those who need it the most. This is where you'll hear real stories from community members around the world who transcended poverty by providing access to safe water. This exhibit will also reveal how you can contribute to making an impact and help bring water relief to 2.2 billion people in need.

You can also take a dive into MDC's outside water activity pavilions featuring hands-on learning about water testing, solar-powered systems, and water treatment.
As an environmentally friendly 3PL, Beltmann Integrated Logistics knows that sensible individual efforts can lead to extraordinary down-the-line payoffs. We are proud to be partnering with the Global Water Center to facilitate the movement of the exhibit. Why wait for yet another alarming report on the global water crisis shortage? Start changing the narrative now, inspired by organizations like the Global Water Center.
The FREE exhibit is touring the country in 2021, so check out the calendar to plan your visit !
Healthcare Logistics 101 COVID-19 has had a significant impact on healthcare practices, staff and processes. If you don't already outsource your healthcare logistics, now may be the time to act. This article will help you better understand what healthcare logistics includes and how it can help your business. How Can Healthcare Logistics Help My Team? Flexibility to Meet Your Neesd. One of the great things about working with 3PL is that you can plick and choose from the services you need. Your 3PL team should have the experiience and ability to provide all related services, and be able to increase and decrease the services they provide for you as and when required. Next time you need to send or received PPE urgently or need to open a temporary facility due to an influx of patientss, your 3PL will be by your side to help make this happen as efficiently as possible, and ahve the flexibility to meet your needs. Save Time & Money. Your team is doing essential work. Give your internal team members the time they need to focus on their areas of expertise. A professional 3PL will be able to use its expertise to get the job done quickly and streamline processes. Working with 3PL can also help you save money. 3PLs may also benefit from preferred pricing and know how and when to negotiate. Combined Healthcare & Logistics Expertise. Choose a 3PL team with specialist healthcare experience. It is essential that you feel you can trust your 3PL team to handle, deliver, move and install high value equipment and have an understanding of your industry. A 3PL will have logistics expertise that your internal team can't match. If you choose a 3PL with healthcare logistics experience, they will be able to combine their healthcare industry insight with their knowledge of logistics to provide optimal support and help you move towards more efficient processes. Get Started Now. We specialize in healthcare equipment logistics and medical relocations. Contact us today to learn more about how we can help. Learn more at www.beltmannlogistics.com